For information on Biola University's coronavirus (COVID-19) response and updates, visit
biola.edu/coronavirus
.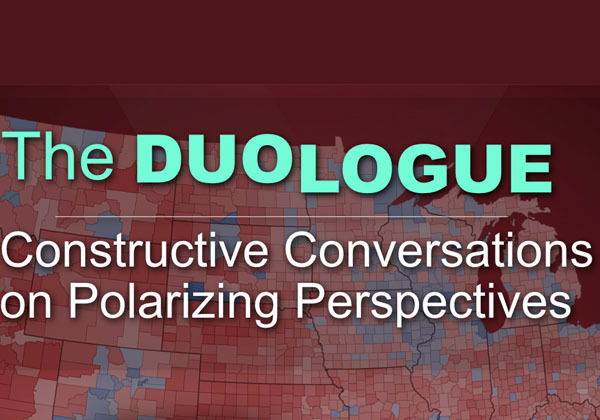 Duologue
Constructive Conversations on Polarizing Perspectives
Monday, April 9, 2018
7–8:30 p.m.

Feinberg - Calvary Chapel
Hosted By: Office of the President

Open to: Alumni, Faculty, General Public, Parents, Staff, Students
Cost and Admission
This event is free to attend.
Students, faculty and staff are invited to an important event on Monday, April 9, 7:00 PM in Calvary Chapel. This will be our first in a series of constructive conversations on polarizing perspectives, The Duologue, a spirited public exchange between a pair of Biola professors, modeling differences in a spirit of humility, conversing earnestly on what we believe the Bible teaches on some of the most crucial issues of the day. This first conversation is on "How Faith Guides Our Political Convictions" between Dr. Darren Guerra (Political Science) and Dr. Joy Qualls (Communication Studies), facilitated by Dr. Rick Langer and Dr. Tim Muehlhoff.
Questions?
Contact Angel Jesudasen at:
(562) 903-4846
angel.jesudasen@biola.edu