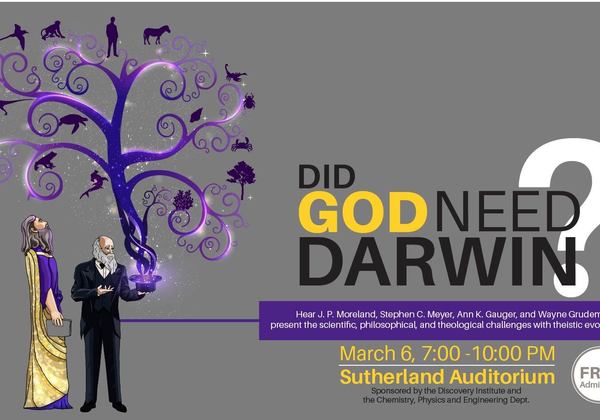 Did God Need Darwin?
Tuesday, March 6, 2018
7–10 p.m. Pacific

Sutherland Auditorium

Open to: Alumni, Faculty, General Public, Parents, Staff, Students
Cost and Admission
This event is free to attend.
Is theistic evolution the best way for Christians to make their peace with science? Come hear JP Moreland, Stephen Meyer, Ann Gauger and Wayne Grudem present evidential, logical and theological concerns with this position and offer alternatives. These outstanding scholars are key contributors to the book, "Theistic Evolution: A Scientific, Philosophical, and Theological Critique." A book-signing will follow the event.
This event is free but please RSVP today!
Questions?
Contact Conference Coordinator at:
(562) 906-4570
conference.coordinator@biola.edu