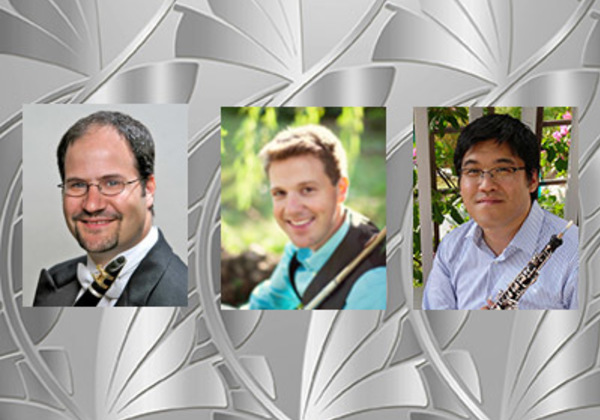 Woodwind Trio
Music at Noon guest artists
Wednesday, April 26, 2017
12:30–1 p.m. Pacific

Crowell Music Bldg. - Lansing Recital Hall
Hosted By: Conservatory of Music

Open to: General Public, Students
Cost and Admission
This event is free to attend.
Our guest artists are all members of Orange County's Pacific Symphony, under the direction of Carl St. Clair. All are active performers and teachers in the Southern California area, and we are pleased that they could join us to perform music especially for woodwind trio.
Benjamin Smolen was appointed principal flutist of Pacific Symphony in September 2011, where he occupies the Valerie and Hans Imhof Chair. He has won top prizes at many competitions, given solo performances in Russia, Japan, Belgium, France, and played concerto solos with Pacific Symphony, Princeton University Orchestra, Charlotte Civic and Youth Orchestras, and Gardner Webb Symphony Orchestra. Smolen's performances have been featured on radio, and he can be heard on the soundtracks for movies such as Monsters University, Planes, Night at the Museum and the 2015 movie Star Wars: The Force Awakens. He recently released his debut album, Bach to Beaser, with guitarist Jerome Mouffe. Smolen studied at Princeton University, the Moscow Conservatory, the New England Conservatory and the University of Michigan. His primary teachers include Paula Robison, Michael Parloff and Aleksandr Golyshev. He is a William S. Haynes Artist and performs on a handmade, custom-crafted Haynes 14-karat gold flute.
Joshua Ranz currently holds the position of utility/bass clarinet with Pacific Symphony, with whom he also acted as principal clarinet on the 2006 European tour. He is also principal clarinet of the Los Angeles Chamber Orchestra and was featured prominently with them on their European tour in the winter of 2008. He has recorded with Pacific Symphony and the Los Angeles Chamber Orchestra and is active in the television and motion picture industry. Ranz is a Studio Artist in clarinet at Biola University, and has performed regularly as principal clarinet during the summers at many festivals. His chamber music performances in California include programs such as the South Bay Chamber Music Society, Chamber Music Palisades, the Capitol Ensemble, and Jacaranda. Ranz attended Yale School of Music where he studied with David Shifrin and received his Bachelor's degree at Harvard College, majoring in music composition and analysis.
A native of Southern California, Ted Sugata is currently second oboist with the Pacific Symphony Orchestra. Previously, he was a member of the Sarasota Orchestra in Florida, and principal oboist with the Lyrique-en-Mer Opera Festival in Belle-Ile, France. He performs regularly with the Los Angeles Opera, San Diego Symphony, Long Beach Symphony, Santa Barbara Chamber Orchestra, and the Pasadena Symphony. Since 2012, he has been a member of the Calico Winds, a resident woodwind ensemble with the Glendale Noon Concerts. Mr. Sugata received his bachelor's degree from the Manhattan School of Music, his master's degree from the Cleveland Institute of Music, and recently completed a Doctorate of Musical Arts degree in oboe performance at USC under Dr. Joel Timm. He teaches oboe at Pepperdine University, Chapman University, California State Polytechnic University, Pomona, Colburn Community School of Performing Arts, and, since 2011, the Idyllwild Arts summer program.
Questions?
Contact Music Reception at:
562-903-4892
music@biola.edu
Part of the collection Music at Noon Series