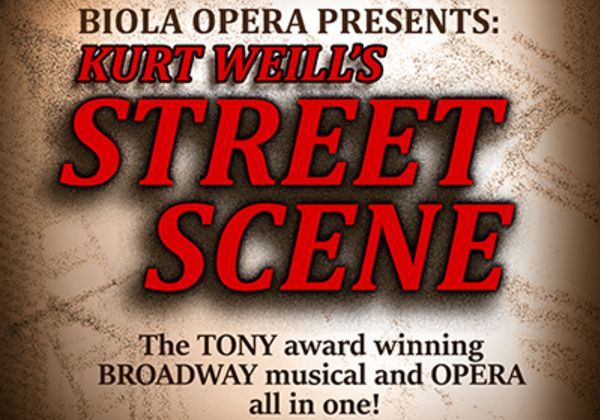 Opera "Street Scene"
Biola Opera
Friday, February 10, 2017
7:30 p.m. Pacific

Saturday, February 11, 2017
7:30 p.m. Pacific

Sunday, February 12, 2017
3 p.m. Pacific

Friday, February 17, 2017
7:30 p.m. Pacific

Saturday, February 18, 2017
7:30 p.m. Pacific

Sunday, February 19, 2017
3 p.m. Pacific

Crowell Music Bldg. - Lansing Recital Hall
Hosted By: Conservatory of Music

Open to: General Public
Cost and Admission
This is a paid event.
| | |
| --- | --- |
| $20.00 | General Admission |
| $15.00 | Seniors/Groups 15+/Faculty/Staff |
| $10.00 | Students and Children |
NOTE: A $3.00 PROCESSING FEE WILL BE ADDED TO EACH TICKET PURCHASED.
Street Scene is an American opera by Kurt Weill (music), Langston Hughes (lyrics) and Elmer Rice (book), based on the Pulitzer Prize-winning play by Rice.
The story takes place in the 1940s on the front stoop and adjoining sidewalk of a brownstone on 45th Street in a working-class corner of Manhattan. It follows the building's tenants as they gossip, squabble, laugh, dance, sing and despair—some struggling to hope, some to find joy, and some simply to survive.
Street Scene was awarded the first Tony Award for Best Original Score after the Broadway premiere in 1947. It is a work of musical theatre that dances beautifully between classical opera and the vitality of American jazz and blues.
Weill referred to his work as an "American opera," intending it as a groundbreaking synthesis of European, traditional opera and American musical theater; it is considered to be his masterpiece. The score contains operatic arias and ensembles, some of them in the style of Giacomo Puccini as well as others with jazz and blues influences.
Featuring an award-winning score and vivid lyrics by Langston Hughes, the poet laureate of the Harlem Renaissance, Street Scene has been hailed as "an exhilarating blend of Puccini-esque melody, bright, brassy, impudent jazz, brooding blues and sparkly Broadway showtune ... This is a pungent, gutsy work of music theatre, pulsating to the relentless rhythm of irrepressible urban life." –Arts Desk
This opera contains mature themes. Parental discretion is advised for young children.

Questions?
Contact Music Reception at:
562-903-4892
music@biola.edu
More from Conservatory of Music Concert Series