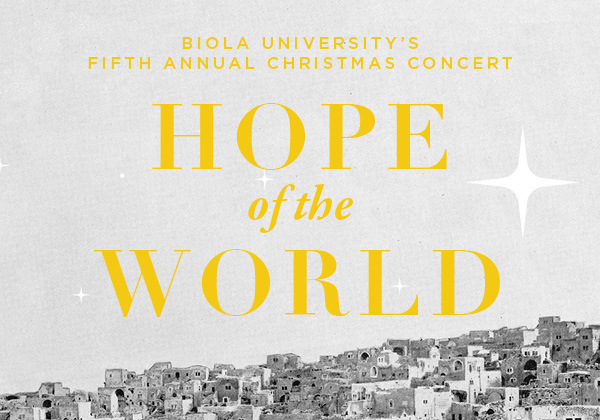 "Hope of the World" Christmas Concert
Concert Series - Conservatory Ensembles
Friday, December 1, 2017
7:30 p.m. Pacific

Saturday, December 2, 2017
7:30 p.m. Pacific

La Mirada Theatre

14900 La Mirada Blvd.
La Mirada, California 90638

Hosted By: Conservatory of Music

Open to: Alumni, Faculty, General Public, Parents, Staff, Students
Over 2000 years ago a child was born in the city of Bethlehem. That child was the son of God, and the hope of the world. This year's concert, featuring over 200 musicians from the Biola Conservatory of Music, celebrates Jesus' birth as we explore the miracle of a baby born to be the Hope of the World. By combining many genres of music from different parts of the world, poetry, media and visual arts, we will tell not just the story of his birth, but how we as believers can bring the news of hope to a lost world.
TICKETS ARE AVAILABLE THROUGH THE LA MIRADA THEATRE, ONLINE (use red Buy Tickets button) OR AT THE DOOR.
Ticket prices range from $15 - $25. Current Biola students may obtain a free ticket in advance from Brooke Brooks in the Conservatory of Music office or present their Biola ID at the La Mirada Theatre box office. For groups of 10 or more, please call the La Mirada Theatre Box Office directly ((714) 994-6310 | (562) 944-9801).

Questions?
Contact Music Reception at:
562-903-4892
music@biola.edu
Part of the collection Conservatory of Music Concert Series