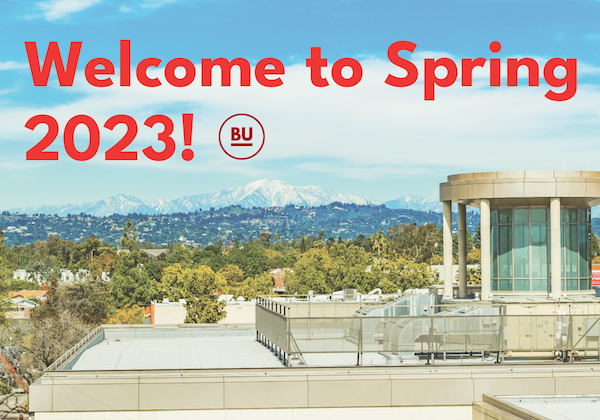 Cost and Admission
This event is free to attend.
Welcome to Spring 2023! For the first week of classes, Biola has several activities for incoming and continuing students to enjoy and connect with the community. Bring a friend and join in!
Spring Convocation in Sutherland Auditorium
Monday, January 9 at 9:30 a.m.
Join President Dr. Barry Corey as he gives a message for the Biola community. Swing by the Collegium after to mingle with others in the Biola community.
Welcome Tables in the Library Lobby
Monday, January 9 from 9 a.m. - 3 p.m.
Tuesday, January 10 from 9 a.m. - 3 p.m.
Learn more about our campus resources and ask questions of our Student Development staff.
Women's Basketball Game in Chase Gymnasium
Tuesday, January 10 at 7 p.m.
Let's go Eagles! Come cheer on Biola's Women's Basketball team as they play Bethesda University and see what Biola school spirit is all about.
Transfer Lunch in Kim Dining Room
Wednesday, January 11 at 12 p.m.
Transfer students are invited to enjoy a complimentary lunch together and get to know one another.
Commuter x Housing and Res Life Block Party
Thursday, January 12 at 6-8 p.m.
Front of Hope (Next to the baseball field)
Come to our block party to enjoy hotdogs, music and activities with Biola Commuter and Housing & Residence Life.
Swim & Dive Senior Day Meet at Lansing Pool
Friday, Jan. 13 at 1 p.m.
Come celebrate graduating Eagles in their final home meet as student-athletes. Biola hosts Arizona Christian with diving at 1 p.m. and swimming beginning at 2 p.m.
Questions?
Contact Internal Communications at:
internal.communications@biola.edu