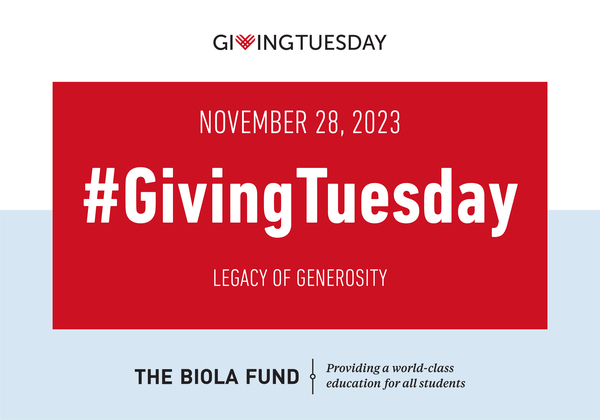 Giving Tuesday
Give Today for our students!
Tuesday, November 28, 2023
12 a.m.–11:59 p.m. Pacific

SUB Fireplace Pavillion
Hosted By: Office of University Advancement

Open to: Alumni, Faculty, General Public, Parents, Staff, Students
Cost and Admission
This event is free to attend.
Join us TODAY as we celebrate our Legacy of Generosity by supporting the Biola Fund.
The Biola Fund provides scholarships to ALL students to assist with their tuition costs.
Give here or stop by the Fireplace Pavilion between 11:30 a.m. and 2 p.m. where we're inviting students to learn more about philanthropy and its impact at Biola.
Questions?
Contact Joy Bergk at:
5425
joy.bergk@biola.edu