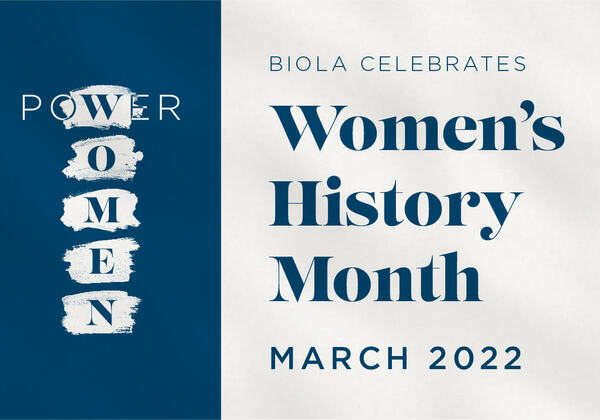 Women's History Month Luncheon
"Power Women: Stories of Motherhood, Faith and the Academy"
Monday, March 28, 2022
12–1:30 p.m. Pacific

Talbot East Plaza 11 - Andrews Banquet Room
Hosted By: University Events

Open to: Alumni, Faculty, Staff, Students
Biola University is excited to host the annual Women's History Month Luncheon on Monday, March 28, at 12 p.m. This year, we will be featuring the authors of the book, "Power Women: Stories of Motherhood, Faith and the Academy." Seven of the 14 book contributors are Biola faculty. In a Ted-Talk style format and panel discussion, inspiring women from different backgrounds and academic disciplines will share their experiences as Christian women pursuing both motherhood and academia. Pulling from the book of essays, their stories provide wisdom, encouragement and solidarity for those women who follow or aspire to follow a similar journey.
Tickets are $10 for employees and $5 for Biola students. Please register by Wednesday, March 22 at 12 p.m. For more information, contact internal.communications@biola.edu.
Speakers:
Nancy Wang Yuen, Ph.D., Associate Professor, Department of Sociology, Biola University (Moderator)
Deshanna Collier-Goubil, Ph.D., Interim Dean, School of Behavioral and Applied Sciences, Azusa Pacific University
Christina Lee Kim, Ph.D., Associate Professor of Psychology at the Rosemead School of Psychology, Biola University
Doretha O'Quinn, BridgeBuilder Consulting Group, former Provost and Vice President of Vanguard University
Jennifer Powell McNutt, Ph.D., PRHistS, Associate Professor in Biblical and Theological Studies, Wheaton College
Joy Qualls, Associate Dean, Division of Communication, School of Fine Arts and Communication, Biola University

Ji Y. Son, Ph.D., Professor, California State University, Los Angeles

Questions?
Contact Janelle Kruly at:
x5382
janelle.kruly@biola.edu