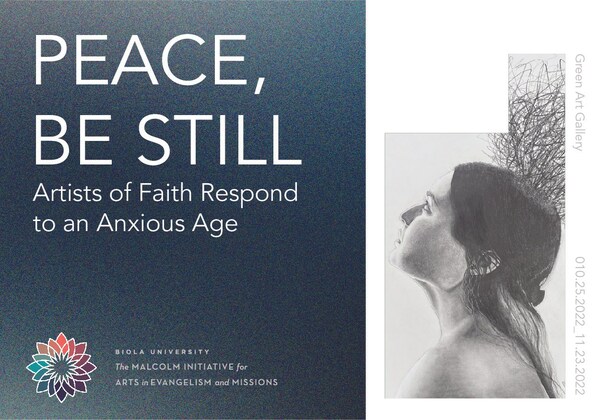 "Peace, Be Still: Artists of Faith Respond to an Anxious Age"
A juried group show exhibition
Cost and Admission
This event is free to attend.
"Peace Be Still: Artists of Faith Respond to an Anxious Age" is presented by The Malcolm Initiative for Art in Evangelism and Missions at Biola University, in collaboration with The Center for Christianity, Culture and the Arts at Biola University, and Upside Down Gallery (a ministry of Jews for Jesus).

Although our lives are by and large well-provided for—most of us have enough food, money, clothes, and shelter to live well—we remain plagued by elements of human brokenness that we struggle to fully name. This show seeks to provide space for artists of faith to explore this concern—how does my experience of faith intersect with the lived reality of anxiety in my life and the lives of those in my community? We hope and believe that our faith will guide us in our quest to find solutions to our inner world. What happens though, when faith leaves us with questions we have yet to find answers to, at times thickening our experience of anxiety?

Participating Artists:
Mel Andrews, Zac Benson, Ella Buell, Janna Christian, Eden DeLaVara, Kari Dunham, Cheryl Dyer, Sydney Fox, Alicia Fregoso, Kristen Kim, Michelle Lum, Alyssa Haley Moon, Christa Norman, Jonathan Puls, Netanya Sigler, Hannah Stewart, Lisl Tulunay, Krystyny Vandenberg, Doug Webb, Laura Webster, Michael Winters

On View:
October 25, 2022 - November 22, 2022
Gallery Reception:
Tuesday, October 25, 2022. 6:30 p.m.-8:30 p.m.
See also the reception event page here
Gallery Hours:
Monday thru Friday
9 a.m. - 9 p.m.


Questions?
Contact Jeff Rau, Gallery Director at:
(562) 944-0351 ext.5738
art.gallery@biola.edu
Part of the collection Exhibitions