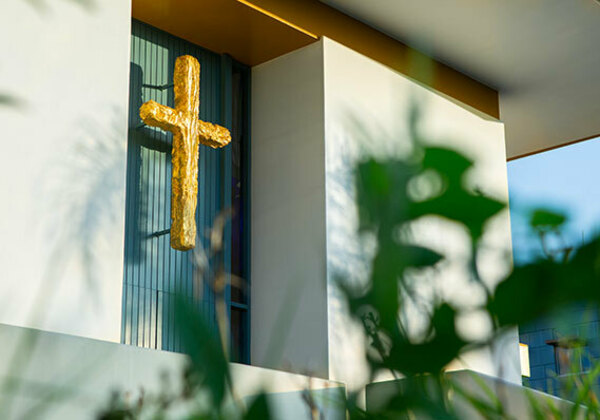 Talbot Chapel: The Cross and the Commission
Kenneth Ulmer
Tuesday, November 16, 2021
9:30–10:20 a.m. Pacific

Calvary Chapel
Hosted By: Talbot School of Theology

Open to: Alumni, Faculty, General Public, Parents, Staff, Students
Cost and Admission
This event is free to attend.
Each week in Talbot Chapel, all are welcome to join Talbot staff and students to hear preaching and teaching from the Seminary faculty, visiting pastors, and ministry leaders.
Speakers
Kenneth Ulmer
Bishop Kenneth C. Ulmer, DMin, PhD "Passionately pursuing God's will and wisdom" These words best describe the life of Dr. Kenneth C. Ulmer. Dr. Ulmer serves as the Senior Pastor-Teacher of Faithful Central Bible Church in Inglewood, California . Under Dr. Ulmer's steady leadership, Faithful Central Bible Church has grown from 350 people to more than 13,000 since he arrived in 1982. Through a series of miraculous events, the Lord made it possible for Faithful Central to purchase the Great Western Forum, which has allowed the church to easily accommodate the incredible growth it has seen. Now, Dr. Ulmer and Faithful Central Bible Church are ready to go forth as Champions who are ready for divine deployment. Dr. Ulmer envisions Faithful Central as a conduit of God's love and power as it reaches out to Los Angeles and makes an eternal impact across the globe. In looking back over Dr. Ulmer's life, it's easy to see that he has always had a passion for realizing and obeying God's will for his life – to go along with an inexhaustible thirst for the knowledge and wisdom of God. In his eyes, though, his greatest success and satisfaction has come as the husband of his wife, Togetta, and the father of their three children – daughters RoShaun and Keniya, and son Kendan. In addition, he has two sons-in-law and five beautiful granddaughters. Dr. Ulmer and Togetta have been married for over 30 years and currently reside in Los Angeles, California. Dr. Ulmer has continued his pursuit of biblically based knowledge. He furthered his education by participating in the study of ecumenical liturgy and worship at Magdalene College at Oxford University, Oxford, England in 1994. Today, he continues his ongoing studies at Christ Church and Wadham College at Oxford University . Desiring to share the knowledge and wisdom the Lord has blessed him with, Dr. Ulmer has also served as an instructor in Pastoral Ministry and Homiletics at Grace Theological Seminary, an instructor of African-American Preaching at Fuller Theological Seminary in Pasadena, an Adjunct Professor at both Biola University and Pepperdine University, and a mentor in the Doctor of Ministry degree program at United Theological Seminary. Dr. Ulmer has served as both Adjunct Professor and Summer Dean at The King's College and Seminary in Los Angeles. Dr. Ulmer has also taken on additional responsibilities at the leading of the Lord. In 1994, he was consecrated Bishop of Christian Ed ucation of the Full Gospel Baptist Church Fellowship, where he also served on the Bishops Council. Dr. Ulmer has also served on the Board of Directors of The Gospel Music Workshop of America, the Board of Trustees of Biola University, the Pastors Advisory Council for the City of Inglewood , and the Board of Trustees of Southern California School of Ministry. Additionally, he is a founding board member of The King's College and Seminary. It is his recent appointment to President of this fine institution (effective August 1, 2008), which will further broaden his exposure in the world of academia and make accessible his leadership and teaching gifts on the university level. In 2000, another great calling from God came to Dr. Ulmer. He was installed as the Presiding Bishop over the Macedonia International Bible Fellowship, with churches representing the countries of Zimbabwe, Namibia, Angola, and Republic of the Congo, South Africa, and the United States . One other way that Dr. Ulmer has sought to share his message is through the printed word. He is the author of four books: A New Thing, a reflection on the Full Gospel Baptist Movement; Spiritually Fit To Run The Race, a guide to everyday godly living; and The Anatomy Of God, a major release from Whitaker House that vividly relates the awesome attributes of God; In His Image, introduces us to God who is teachable, emotional, and accessible, his newest publication, Making Your Money Count, clearly articulates biblically sound truth on the topic of money - while understanding God's purpose for money and reach our Kingdom potential - and our Kingdom blessings.
Questions?
Contact:
(562) 903-4874
chapel@biola.edu