For information on Biola University's coronavirus (COVID-19) response and updates, visit
biola.edu/coronavirus
.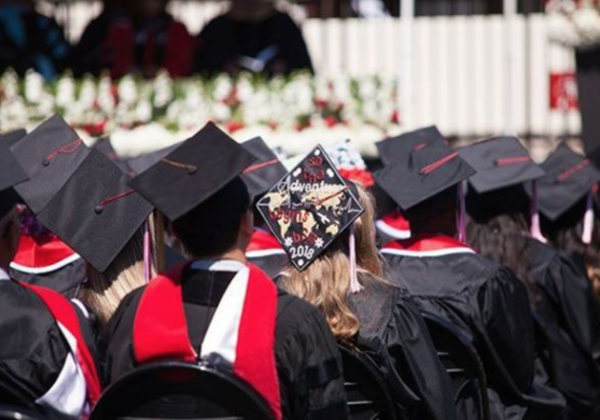 Talbot Baccalaureate — Spring 2020: Postponed
Common Questions Answered
Friday, May 8, 2020
2–4 p.m.

Granada Heights Friends Church

11818 La Mirada Blvd.
La Mirada, California 90638

Hosted By: Talbot School of Theology

Open to: Faculty, Students
Cost and Admission
This event is free to attend.
Tickets are required. Graduates should RSVP by April 20 using the Commencement Registration Form below.
What is "Baccalaureate"?
Since the Eighth Century, Baccalaureate has been a celebration of academic achievement. At Talbot, Baccalaureate is a time of reflection, celebration and anticipation. For many graduates, it is a highlight of their graduation experience. Baccalaureate at Talbot includes a hooding ceremony, testimonies of thanksgiving, a special presentation recognizing fellow graduates and faculty and a post-ceremony dessert. Graduates will also receive a blessing and a special prayer from the Dean of Talbot at the end of the evening. Graduates are encouraged to invite those who have supported them through their time at Talbot.
Baccalaureate Celebration Details
See more details about our Talbot Baccalaureate celebration, including information about the time, date, guest list and more.
When is Baccalaureate?
The Spring 2020 Baccalaureate Celebration is on Friday, May 8, 2–4 p.m., the day before Graduate Commencement.
All graduates must arrive by 1 p.m., dressed in their regalia. Late graduate arrivals will not be included in the opening procession.
Who attends the event?
All Talbot graduates and full-time faculty are invited to Baccalaureate. Graduates are encouraged to invite their spouse, relatives, mentors, friends and others with whom they have significant relationship.
Is attendance to both Baccalaureate and Commencement required?
Although Baccalaureate is not required, it is a special time of thanksgiving to God and offers a venue to appreciate those who have supported you in your Talbot years.
Graduation rehearsal and Commencement ARE required, except in cases of extreme difficulty or emergency. Written permission to be excused from graduation must be submitted and approved at least one month prior to graduation with the Office of the Registrar. Contact Indra Ragoonanan (indra.ragoonanan@biola.edu).
Where is Baccalaureate held?
Is there a limit to the number of guests I can bring?
Spring 2020 Baccalaureate guest tickets are complimentary, but limited to five guests per graduate. Additional guests can be placed on a waiting list to be added if space opens up. However, it cannot be guaranteed that guests on the waiting list will be able to add and attend.
All graduates will need to RSVP and register for themselves and their number of guests who plan to attend Baccalaureate so plans can be made accordingly. The invitation and link to online registration will be emailed to the graduate's Biola email address.
When is the latest that I can add a guest to my party?
You are required to submit your RSVP and guest list by Monday, April 20 by 12 p.m. via online registration. The invitation and link to online registration will be emailed to graduate's Biola email address.
How formal should my party and I dress?
Baccalaureate falls between dressy casual and semi-formal. Nice slacks and a tie are appropriate for men and a nice dress or skirt and blouse is appropriate for women. Graduates need to arrive dressed in their cap, gown, and hood to Granada Heights Friends Church.
Preparation for the Baccalaureate Celebration
Learn more about specific Baccalaureate Celebration details such as the hooding ceremony, Note of Appreciation, After Graduation Plans and more.
Is there anything I should do to prepare for Baccalaureate?
In addition to your RSVP, inviting guests, and your requests for seating and hooding, graduates should submit the following items to be included in the evening's program: Note of Appreciation After Graduation Plans These items are included in your RSVP form, and are due Monday, April 20 by 12 p.m. Late submissions may not be included in the evening's program.
What should I submit as my "after grad plans?"
The Talbot community is interested in your future and would like to be praying with you through the next steps in life and ministry. All notes are compiled and printed in the Baccalaureate program. Whether you are continuing in a current ministry or waiting on the Lord for His direction, we would like to include your plans in the evening. Submissions can be as simples as, "My family and I will be returning to Any town, serving as Senior Pastor of SBC Church" or "I am waiting on the Lord's direction and how I might serve Him."
What happens at the Baccalaureate Hooding Ceremony?
Graduates and faculty arrive at Granada Heights Friends Church an hour early to put on their regalia and line up for the hooding ceremony. Graduates and spouses ascend the stage together. As graduates are hooded, their note of appreciation is read and their spouse (if applicable) is recognized for his/her support, encouragement and prayers during their time in seminary. More detailed instructions will be provided through email and at Baccalaureate
Who will hood me at the Baccalaureate Hooding Ceremony?
Faculty play an important role in the Talbot experience. To honor that, you may request a specific professor to hood you during the Hooding Ceremony. As your first choice may not be available, please submit several names in your response. If you are receiving two degrees, please make a note as such and both your degrees will be announced, however you will only be hooded at one time. The Spiritual Formation Focus Office will make every attempt to honor your request, but cannot make guarantees.
What is the Note of Appreciation?
The hooding ceremony will not only honor you as a graduate, but also give an opportunity to personally thank those who have encouraged, supported, prayed for and taught you during your time at Talbot. Your note is read by a faculty member as you are hooded. Please limit your note to 75 words or less. Due to time limitations at the Baccalaureate Celebration and the large number of graduates, we may edit your note if it is too long. Please include phonetic spellings of words or names that our readers may find difficult to pronounce. See the below FAQs for examples.
Are fiancés invited to participate in the Hooding Ceremony? What about children?
Spouses are invited to share in the hooding ceremony to thank them for the treasured role they have played in the graduate's life throughout pursuit of their program. As fiancés do not yet fulfill this role, only spouses are included during the hooding. Fiancés can be included in the Note of Appreciation and After Graduation Plans.
Although we strongly encourage graduates and guests with children to make arrangements for childcare at home, children are welcome to attend the evening, provided they are supervised accordingly.
Could you describe the Note of Appreciation a bit more?
The Note of Appreciation can read however you like. A testimony, poem, list of thank-you's, etc. While Baccalaureate is formal, there is room for fun and humor as well. Most are written in the first person. Examples from previous years:
Example #1:

In 75 words I cannot do,
what my life,
I hope, reflects to you
That this moment,
and many other,
is God's grace to me,
through others love.
Wife, and counselors,
teachers and others,
friends and family,
baristas and brothers.
Who all conspired
to see me flourish,
so on this day,
this hope I nourish.

That God in human hearts
might find more hope than
sorrow, When from my mind,
great thoughts I borrow.

Example #2:

I want to thank God for His continued faithfulness in my life especially over the past few years, leading me down this difficult, but blessed path. I want to thank my family who continually supports me every step of the way. I want to thank all of the Talbot faculty for their wisdom and dedication to teaching.
Other questions about Baccalaureate and Graduation details?
Baccalaureate and Commencement
Email: talbot.commencement@biola.edu
Phone: (562) 903-4814
Graduation Requirements
Indra Ragoonanan
Office: Registrar's Office, Metzger
ph: (562) 903-0351, ext. 4720
indra.ragoonanan@biola.edu
Questions?
Contact Talbot Commencement at:
(562) 903-4814
talbot.commencement@biola.edu