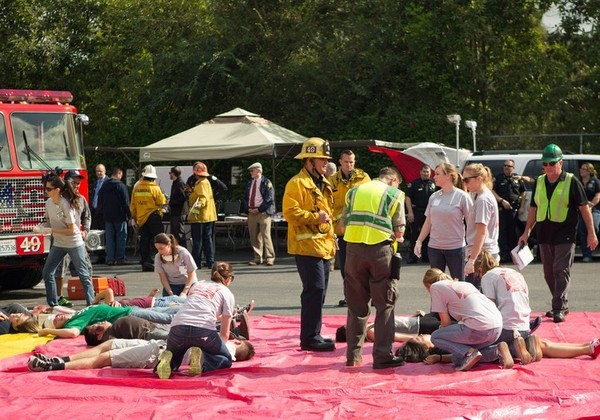 Southern California 2019 Great ShakeOut
Thursday, October 17, 2019
3:30 a.m.–5 p.m.

Library and Metzger Lawn

Open to: General Public
Cost and Admission
This event is free to attend.
Biola University will host the Southern California 2019 Great ShakeOut full-scale exercise in partnership with Earthquake Country Alliance Southern California and local emergency response teams. Biola is the first college to partner with Early Warning Labs to implement a campus-wide ShakeAlert Earthquake Early Warning system and has been selected as this year's ShakeOut media event host due to being a model institution for earthquake preparedness.
Media and special guests are invited to the full-scale exercise starting at 3:30 a.m. A press conference will be held at 9:30 a.m. on Metzger Lawn. Read the full press release on the ShakeOut event.
The Shakeout event will be hosted in partnership with the Great California Shakeout, Earthquake Country Alliance Southern California, CalTech, Los Angeles County Fire Department (LACoFD), La Mirada and Norwalk Community Emergency Response Teams (CERT), the City of La Mirada, HAM amateur radio operators, Red Cross, Los Angeles Sheriff's Department (LASD), Southern California Resource Services for Independent Living and The Hero in You Foundation.
Downloads
Questions?
Contact Jenna Loumagne at:
(562) 777-4061
jenna.loumagne@biola.edu