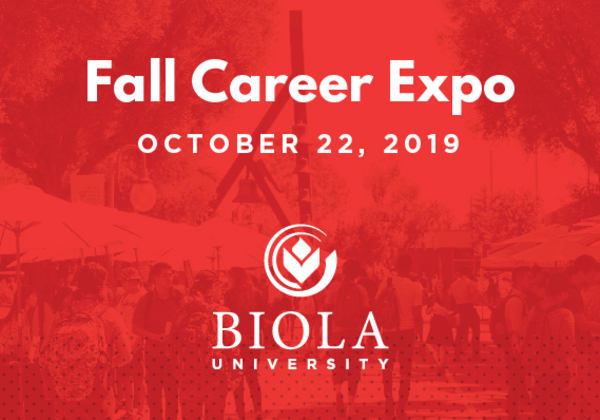 Fall 2019 Career Expo
Tuesday, October 22, 2019
10:30 a.m.–2:30 p.m. Pacific

Fluor Fountain
Hosted By: Career Development

Open to: Alumni, Faculty, Students
Cost and Admission
This event is free to attend.
Meet your future employer for your next job or internship. This Career Expo is open to all majors, student years, and recent grads! Register today to receive event updates and Expo preparation tips and resources.
What employers will be at the expo?
Join us on Tuesday, Oct. 22 from 10:30 a.m. to 2:30 p.m. (Stop by at any time!)

Location: Near the Fluor Fountain- Lot F

Questions?
Contact Grace Kim at:
(562) 944-0351, ext: 5856
grace.j.kim@biola.edu
Contact Jasmyn Alvarez at:
(562) 944-0351, ext: 5870
jasmyn.m.alvarez@biola.edu