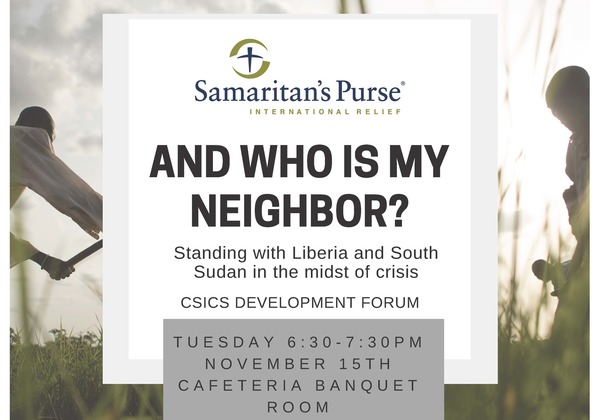 Samaritan's Purse "And Who Is My Neighbor"
Development Forum
Cost and Admission
This event is free to attend.
The Cook School of Intercultural Studies (CSICS) will host a Development Forum featuring Lucy Harig, a representative from Samaritan's Purse, a Christian Relief and Humanitarian organization that works across the world to assist the poor and marginalized in Jesus' Name. Samaritan's Purse is headed by Franklin Graham, the son of Dr. Billy Graham.
Harig will be speaking specifically about Samaritan's Purse's work in Sierra Leone and South Sudan as well as sharing about some of her own journey in Christian relief and development work since graduating from Biola as an Intercultural Studies major. In addition, she will be sharing information about potential internships and other work opportunities with regard to Samaritan's Purse.
Questions?
Contact Katrina Greene at:
562-944-0351 ext. 5535
katrina.greene@biola.edu