Learning Opportunities

At Biola, your degree in communication goes far beyond the classroom. In fact, some of the best learning happens when you start to put your education to practice. From internships and engaging in faculty projects to leadership opportunities in student-run media groups, find ways to get involved and expand your network.
Production Center
The Production Center is available 24 hours a day for communication students to allow access to state-of-the-art equipment and facilities, including a 1052-square-foot soundstage with green screen and multi-camera capability.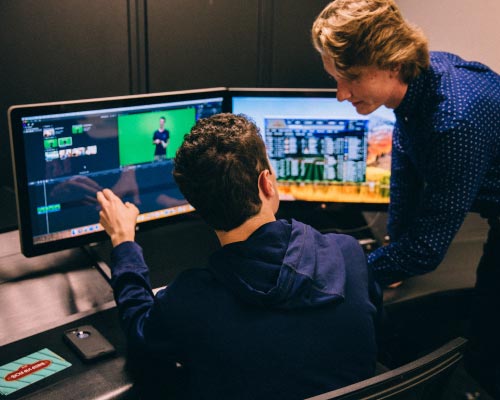 The Chimes
Students have the opportunity to join The Biolan (Biola's yearbook, one of the oldest forms of student media on campus) or The Point (an award-winning student magazine) during their time at Biola. These student publications are entirely student-produced, giving students a chance to expand their skills in writing, photography, design and more.
The Point
The Point magazine is Biola University's campus magazine produced by students, for students, about college life and the world beyond. The Point consistently wins national, competitive awards for writing, photography and design. Competing with major state and private universities across the country, the staff for The Point are influencing the world through their work as students. If you join The Point team, you'll have the chance to explore your talents in visual storytelling, written stories and other areas.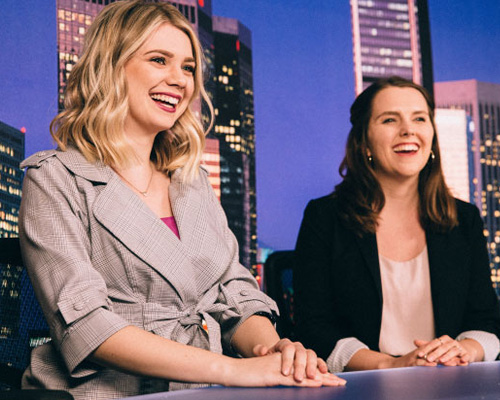 EagleVision News
Students looking to pursue a career in broadcast journalism need look no further than EagleVision News. As Biola's own student-run news production, EagleVision produces timely and relevant content for the Biola community, including students, faculty, staff and alumni. The EagleVision webcast reaches viewers across the world via its YouTube channel. If you join EagleVision, you'll be able to expand your knowledge in and practice every aspect of broadcast news, including content production, editing, directing, camera operating and more.
KBR: The Torch
For students interested in talking about the news, The Torch will be the go-to source. The Torch is a student-run radio station that primarily features podcasts from our state-of-the-art audio studio within the production center. Students will get to share compelling content with Biola's student body while honing podcasting skills.
Public Relations Student Society of America (PRSSA)
The Public Relations Student Society of America (PRSSA) is the premier organization for students interested in careers regarding public relations and communications. Biola's chapter of PRSSA offers a myriad of opportunities to help students enhance their education, broaden their network and launch their career in public relations.
Internship and Career Advice
Finding your dream job isn't a do-it-yourself activity. Biola's Career Center is an incredible resource — your single stop for exploring career opportunities, gaining experience and connecting with employers. They offer services to help you identify your ideal career, find internships, optimize your resume and nail a job interview. Throughout the year, they host employers on campus for job fairs, and they bring in industry experts to offer career advice. Plus, they've got an entire team of career specialists and internship ambassadors, offering you major-specific help.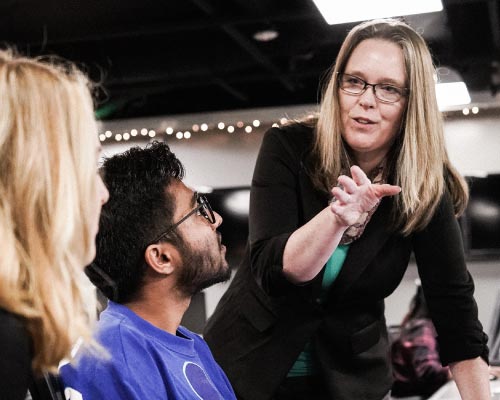 Disney Internships
Biola's campus, so near Anaheim, home of Disneyland, provides students many opportunities for internships that can provide networking for both public relations and journalism careers. Students accepted for Disney internships complete coursework in leadership development and experience with public management. Students can also build ties to professionals in media properties owned by Disney, such as ABC News.
Lambda Pi Eta Honor Society
Lambda Pi Eta is the national honor society for the study of communication. Members of Lambda Pi Eta plan events including seminars, off-campus visitations and public awareness demonstrations.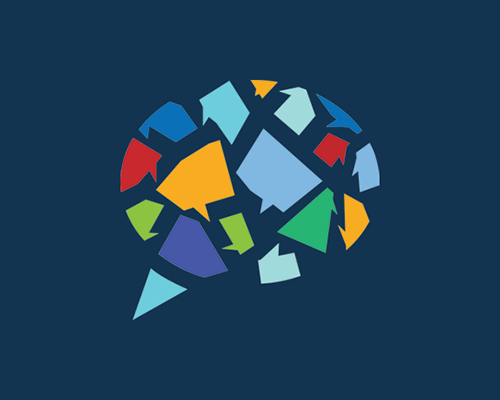 Winsome Conviction Project
Our society today is more divided than ever, and diverging opinions can lead to the dissolution of relationships. That's where the Winsome Conviction Project (WCP) comes in. Co-led by one of our own faculty members, Tim Muehlhoff, the WCP offers resources designed to help us understand how to deepen our convictions without dividing our communities.