Meet Your Academic Advisor
First-Year Academic Advising
During your first year at Biola, an academic advisor will be your primary connection point for your academic transition. Our advisors serve students based on what school they are in (schools are a larger unit at the university often containing many majors, such as the School of Science, Technology and Health).
In your first year, you will connect with your academic advisor to receive important information about the registration and degree requirements at Biola. From your advisor, you can also receive academic support and learn planning tools to make the most of the resources around you.
After your first year, your primary advisor will shift from an Advising Center advisor to a faculty member within your major, and they will be your main resource for academic advising.
The following academic advising appointment types are available for first-year students:
General Advising (e.g., transfer credit questions, placement exam advising, GPA calculation, general academic success, etc.)
Major/Minor Changes - Peer Academic Advising
Registration Appointment
Military Benefit Academic Plan (building an academic plan for military benefit requirements)
Exploring Study Abroad Programs
Student Athlete Support (e.g., eligibility, GPA recovery)
First-Year Seminar - Peer Academic Advising
Academic Advisors in the Advising Center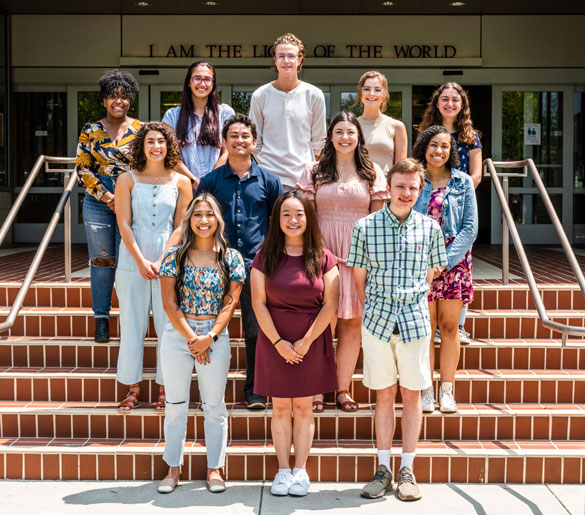 Peer Academic Advisors
Our Peer Academic Advisors (PAA's) are here to provide you with accurate academic advising information to help you achieve your academic goals at Biola. These trained student leaders coach fellow students in major/minor advising, class registration, and other academic requirements (e.g. filling out a Graduation Petition).
Department Academic Advisors
Students in Nursing, Accounting/Business, and Education majors will be advised by their academic program and will not meet with the Advising Center for required advising. Torrey Honors College students have additional advising support provided by their program. Refer to the list below for the program advisor's contact information.
Advisors for Second Year and Beyond Students
Continuing students transition from their Advising Center advisor to a faculty member during their second year at Biola. At the start of your second year, your new advisor's name will appear on your Degree Audit and their contact information can be found on biola.edu/directory. The Advising Center will continue to offer limited advising support primarily through our Peer Academic Advisors during the academic year (juniors and seniors trained in advising).
The following advising services are available for continuing students:
General Advising (e.g., general academic success, how to use advising/registration tools, course selection, transfer credit questions, placement exam advising, etc.) - Peer Academic Advising
Major/Minor Changes - Peer Academic Advising
Course Registration - Peer Academic Advising
Graduation Petition Support (how to fill out the form) - Peer Academic Advising
Exploring Study Abroad Programs (learn more about Study Abroad)
Student Athlete Support (e.g., eligibility, GPA recovery)