For information on Biola University's coronavirus (COVID-19) response and updates, visit
biola.edu/coronavirus
.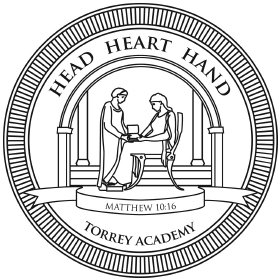 What is Torrey Academy?
Torrey Academy is a classical education program for homeschool high school students, serving as a division of the Torrey Honors Institute at Biola University.
Education for Christian Maturity
Torrey Academy equips students to be lifelong disciples, citizens and scholars who pursue the Good, the True, and the Beautiful. Our courses are for the formation of the whole person. We want to see a generation of young men and women enlivened by intellectual maturity who are prepared to faithfully follow Jesus Christ as they thoughtfully, humbly and winsomely interact with different people, ideas and cultures.
Rigorous Classical Courses
Students read, discuss and write about texts that have shaped and challenged the Christian worldview over the last two thousand years. Our integrated core classes give students credit for multiple humanities courses and they wrestle with ideas within literature, history, philosophy, government and theology. We provide classes in various locations throughout Southern California.
| Grade | Recommended Course | Additional Recommended Courses |
| --- | --- | --- |
| 10th | The Inklings | Writing Lab (required for first year students) |
| 11th | Foundations of American Thought | |
| 12th | Rhetoric | Faith of Our Fathers |
Regardless of grade level, we recommend students take courses in the order listed. However, families do have the option of taking these classes in different grades or in a different order than suggested.
---
Exemplary Mentor Tutors
Students are guided in their academic progress by skilled, virtuous instructors who deeply care about their students. We call them "tutors" in order to honor the primary texts as the true "teachers." Each tutor has had over 600 hours of Socratic discussion experience and training.
Transformative Discussions
We have found that discussion is one of the most effective and enriching methods of truth-seeking. Following the classical method of Socratic dialogue, Torrey Academy provides students with a safe and engaging environment to discuss important ideas with their peers and tutor while also forming meaningful friendships.
Prepared Graduates
Students who complete Torrey Academy:
Read and think critically
Speak and write effectively
Listen respectfully
Evaluate ideas based on Christian theology
Possess a deeper understanding of God, themselves and the world
Meet high school course requirements in a way that promotes lifelong learning
Torrey Academy Online
Experience the benefits of classroom community and the convenience of home education with our online classes. Torrey Academy online class sessions are hosted in tutor-moderated video "classrooms" at regular weekly times, allowing online students to seek truth "live" with their tutor and peers.
---
Program Costs
Costs are dependent on the courses you choose. See the Fees page for a full list of costs.
Have Questions?
Find answers to frequently asked questions on our FAQ page.
Interested in this program?