Torrey Academy offers classically informed liberal arts courses that provide a world-class Great Books education program.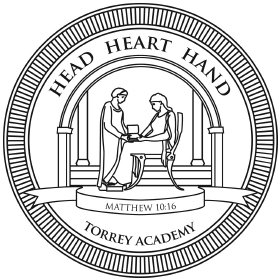 History & Context
Torrey Academy equips high school students to stand firm in their Christian faith, ever-ready to engage big questions. Our teaching community helps students cultivate the intellectual virtues and practices necessary to wrestle with the texts and ideas that have shaped and challenged the Christian worldview over the last two thousand years.
With over 16 years of experience, we are a trusted community of educators, currently serving the needs of over 200 high school students. We provide classes at various cities throughout Southern California, including La Mirada, Garden Grove, Yorba Linda, and Temecula Valley, and real-time online classes, which merge the advantages of small-group discussions with the convenience of modern technology.
Our Mission
Torrey Academy's motto is Head, Heart, and Hands. We are developing the next generation of Christian youth who think well, care deeply about forming virtuous sentiments, and serve others.
---
Classically Informed
Our curriculum is interdisciplinary and based on primary texts rather than textbooks. Because Torrey Academy seeks to equip students to articulate and defend the Christian worldview, we believe it is necessary for students to wrestle with the texts and ideas that have shaped and challenged that worldview over the last two thousand years. The curriculum spans literature, history, theology, philosophy, Bible, government, and art to reflect the unity of creation and knowledge.
Benefits
Students learn to think critically
Students learn to write argumentative essays
Students begin to develop Godly sentiments and habits
Families receive documentation of coursework completed and a final grade
Community & Discussion
We believe that discussion is one of the most powerful, effective, and enriching methods of truth-seeking. Following the lead of the Oxford tutorial system and the classical method of Socratic dialogue, Torrey Academy provides students with a safe and engaging environment to discuss important ideas with their peers and tutor. The core Torrey Academy classes are discussion-based, not lecture-based. Students will learn to think and express themselves critically by participating in discussions led by the tutor.
On a typical class day, the tutor will begin with a brief devotional and prayer. He or she will then commence the class discussion by asking students an "opening question," which is designed to spark meaningful engagement with the assigned text. The tutor will guide students in their discussion by providing follow-up questions, challenging a claim, moderating class dynamics, and otherwise assisting the class with successful exploration of the ideas at hand.

Not only will Torrey Academy discussions teach students to engage big ideas, think critically, and communicate effectively, it will provide them with a space to form meaningful friendships.

---
Course Offerings
Torrey Academy offers both core classes and meta classes. The core classes comprise the heart of the Torrey Academy curriculum, and include The Inklings, Foundations of American Thought, and Faith of Our Fathers. The meta classes ("meta" is the Greek prefix for "beyond") are Logic, Rhetoric, and Economics and the City of God. Torrey Academy offers these courses to supplement and enrich students' education.
The core classes are worth three classes (30 high school credits), while the meta classes are worth only one (10 high school credits).
Torrey Academy Courses
Torrey Academy Online
Torrey Academy is pleased to offer the latest in audio-conferencing technology, Canvas, to facilitate the online academic experience. All of our classes are available online! Torrey Academy online class sessions are identical to onsite classes except that the discussion and grading are done online through audio and email conferencing. Discussion occurs in a tutor-moderated audio "classroom" at regular weekly times allowing online students to interact "live" with their tutor and peers to experience some of the benefits of a classroom-like setting in their own home.
Torrey Academy Writing Lab
The Writing Lab is an online tutorial covering all of Torrey Academy's writing expectations. It has a schedule of assignments for students to complete independently. However, though the course covers the overall requirements for academic writing, it is not tutor-led.
---
Program Costs
Costs are dependent on the courses you choose. See the Fees page for a full list of costs.
Have Questions?
Find answers to frequently asked questions on our FAQ page.
Interested in this program?