Library Instruction
Information Literacy
Information literacy is one of the nine program learning outcomes of the revised Core Curriculum at Biola.

Students will ethically discover, evaluate, and use information to formulate and address research questions, explain how information is produced and valued in a given discipline, and share their results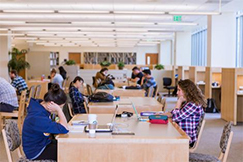 Library faculty partner with instructional faculty to promote information literacy skills and teach techniques that will enable students to develop a systematic method of research that can be applied to any discipline or assignment.
Library faculty support student learning by:
Providing instruction that develops information literacy core competencies
Suggesting strategies that promote the development of information literacy skills
Creating online research guides tailored to specific disciplines or research needs
Instructional faculty support student learning by:
Creating assignments that introduce and develop information literacy concepts and skills
Actively participating in library instruction sessions and reinforcing the importance of information literacy skills
---
Library Instruction Requests
Instruction sessions must be requested at least one week in advance.
Instruction sessions must coincide with a particular assignment. Assignment details are included in the request form so that the librarian can customize the instruction to meet your needs.
Schedule the session during a week in which students are likely to use the information to complete their assignment.
Demonstrate the importance of the instruction by being present during the session and supporting the objectives through comments and questions.
Many instruction sessions are scheduled throughout the semester. Please confirm your session date with a librarian before adding library instruction to your course schedule.
Fill out the Library Instruction Request Form below, and a librarian will be in touch with you to discuss your request.
Library Instruction Request Form
For additional information, contact Juliana Morley.
---
Library Instruction Evaluations
If you've recently received library instruction, please complete one of our library instruction surveys. We value your feedback!
Library Instruction Faculty Survey