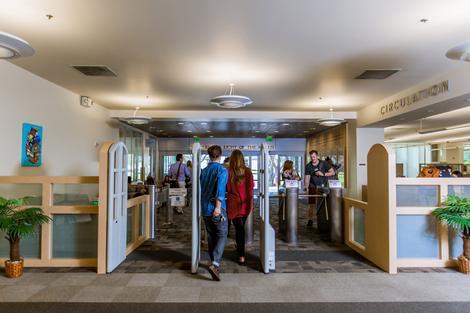 The Biola University Library welcomes all graduates of the university and is pleased to provide life-long benefits that include the following privileges:
Access to the library and borrowing materials
Access to public computers and Wi-Fi service
Access to all subscription databases from within the library building and selected databases off-campus
Printing, copying, and scanning services
Research assistance from professional librarians
---
Library Access
Biola alumni are issued a free Alumni Association ID card from Auxiliary Services. Your Alumni ID will allow you entrance into the library via use of the turnstile entrance card readers. Alumni cards must be activated at the library before use. Once activated, simply scan your card at the library entrance and the turnstiles will release to allow you in the building.
See Library Access for more information.
---
Library Computers & Database Access

Public computers are available on all three levels of the library and are available for use by guests of the library. Visitors will need to get a guest login from the Circulation Desk or Reference Desk. When using a public computer, you must save your work to a USB drive or Google Apps Account. Guest Wi-Fi access is also available. Any user logged into the physical or wireless Biola network may freely access online library resources, including subscription databases. While off-campus access to databases is restricted to Biola students, staff, and faculty, Biola alumni have off-campus access to selected subscription databases with their NetID and password and a login provided by Alumni Relations (562-903-4728 or alumni@biola.edu).
See Use a Library Computer for more information.
---
Printing & Copying

10¢ for black & white
40¢ for color
Scanning to PDF is free, but a library card or copy card with funds is required to log into the copiers.
Alumni members with active NetID accounts may use their NetID login to print. Optionally, all users may purchase a guest print/copy card for $1 from a self-service kiosk, located near the Reference Desk. The kiosks will only accept bills (no coins) or a credit card (Visa, Master Card, or Discover). To use a credit card, at least $10 must be added to the account. These kiosks may also be used to add funds to an existing print/copy card.
Instructions for Alumni
Print as usual using any library computer (except the Library Catalog stations).
Use your active NetID login or the username and password on your copy/print card.
Swipe your Alumni ID card (if using your NetID information) or swipe your copy/print card at a print release station to retrieve your printed document.
Instructions for copying and scanning are posted above each copier in the library.
Please visit the Tech Commons desk for assistance with printing and copying.
See Print in the Library for more information.
---
Borrowing Library Materials
Your Alumni ID card includes borrowing privileges — 25 books and 3 media items. Check out materials or renew items at the Circulation Desk. Return all books and media to the return slot at the Circulation Desk or to the separate return slots outside the library. Logging into your library account allows you to view the items you currently have checked out, renew items, and view any outstanding fines/charges on your account. Alumni are not eligible to place holds or request items via LINK+ and Interlibrary Loan.
See Borrowing & Circulation for more information.
---
Research Help
Ask Us!
We encourage you to stop by the Reference Desk during open library hours for expert assistance with your research assignments. You can also or use our Ask Us service to search FAQs, chat with us, call, text, or submit your question to the library.
Research Guides
Use one of our research guides to get started on your research or to learn how to use a specific library product.
---
Group Study Rooms
Group study rooms are available on the upper and lower levels of the library. Study rooms are intended for collaborative study and group projects. Groups of two or more people may reserve a study room online with a valid Biola email address. Individuals may not reserve a study room for personal use. Reservations can be made up to two weeks in advance, and no more than two hours may be booked by a single user in a single day.
---
Heritage Cafe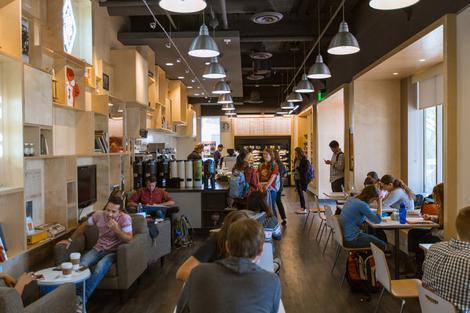 The Heritage Cafe, located near the entrance to the library, serves Starbucks beverages, acai bowls, fresh squeezed juices, gourmet sandwiches, and salads. Decorated with items from the Library Archives and remembrances from Biola's history, the Heritage Cafe provides customers with the chance to reflect on Biola's purpose and mission. Ample seating areas are available outside the Library and in an expanded lobby area inside the Library.
---
Code of Conduct

The Biola Library Code of Conduct is designed to create a safe and quiet environment for all patrons to enjoy. The library and its contents is a shared resource and, as such, requires all patrons to treat it and the other patrons who use it with respect and consideration. Library users are responsible for informing themselves of library policies. This code applies to all users of the Biola Library, including faculty, staff and members of the community. Thank you for your cooperation.