Reserve a Study Room
Purpose, Availability and Use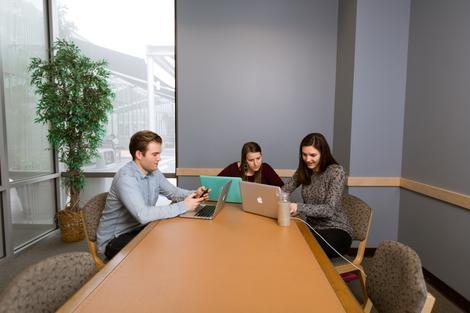 While study rooms may be used by Biola students, staff, faculty, and alumni, they are intended for student collaboration on assignments and projects. Faculty and staff needing space for classes, meetings, or events should use 25Live or contact Event Services to find a suitable space elsewhere on campus.
Individuals and groups may reserve a study room online using their NetID login. If the reservation is no longer needed, it can be canceled using the link provided in the confirmation email. Reservations are not required to use a room; however, a group with a valid reservation may ask any occupant without a reservation to immediately vacate the room.
Study rooms are available on the upper and lower levels of the library. Study rooms are equipped with tables, chairs, network connections, electrical outlets, and whiteboards. Some rooms are also equipped with a large screen monitor. Whiteboard markers and erasers may be checked out from the Information Desk.

---
Room Policies
Reservations may be made up to two weeks in advance.
No more than two hours may be booked by a single user in a single day.
The Library reserves the right to cancel reservations made by anyone not permitted to use the rooms. Bookings that artificially inflate the amount of time in the room will be deleted.
NO SHOW POLICY: A study room reservation may be canceled by library staff if the room is not occupied within 15 minutes of the reserved time.
The Library is not responsible for the security of personal items. Any items left in rooms after the end of the reservation period may be removed by library staff and placed in Lost and Found or taken to Campus Safety.
Study rooms are not soundproof. Please keep noise at a reasonable level.
Food is allowed per the Library's Food and Drink policy. Please dispose of trash in an appropriate manner.
Failure to comply with established policies may result in suspension of study room privileges and/or other library privileges.
---
More Information
Come by the Information Desk or contact us at (562) 903-4838.