Entrepreneurship is a creative act, according to Dr. Silvia Mah, Director of Innovation at Biola.
"An act made possible by the creative impulse that God gave us," she said.
Those creative impulses were on full display at the 2023 Biola Startup Competition on April 21.
CityVend, an app designed to find and buy from street food vendors and food trucks, took first place this year. Inspired by a desire to help all small businesses thrive, Biola alumnus Carlos Ventura ('22) — a first generation student dedicated to helping his community of Hispanic families — desires to connect street vendors with customers who want to shop small and build thriving local economies.
As the first-place winner, CityVend received a check for $10,000, along with a gift-in-kind $25,000 legal package from Holland & Knight and a $2,000 branding package from Vividly Creative Co.
Competitor Kika received the second-place award. Kika is a malnutrition awareness and prevention not-for-profit blessing families in Guatemala, led by Biola political science major Kiara Rascon as CEO, with a multidisciplinary team, including Biola English major Diana Escobar, Biola math major Karla Fuentes and Biola political science major and Torrey Honors student Isahi Minero. Biola psychology and sociology major Cienna Lopez is overseeing marketing. Kika received funding of $6,000 for their startup.
Two startups tied for third place. The startup Eat Up packages and markets Asian-inspired "lunchables." The venture is working to honor family traditions and build more awareness of AAPI cultures. Led by Biola business administration major Ben Chi, Biola computer science major Joseph Hartono, University of Southern California student Emily Lynch, and San Diego State student Trisha Vann. Company Thank God designs and markets minimalistic designed fashion for the Kingdom of God and tied for third place. Another multi-university endeavor, Biola business major Grant Lawrence and Arizona State student Sterling Reed remind people to thank God every day for all of their blessings and continued grace through their company. Both of these groups received $4K to fund their projects.
Sponsored by Biola's Office of Innovation, the startup competition is the culmination of Biola's Student Startup Incubator that offers all current Biola undergraduate students, graduate students and recent (2020 or later) alumni the opportunity to transform a promising idea into a successful startup company. Aided by experienced executives and business leaders, teams have the chance to pitch their concepts, develop a business plan, gain valuable real-world insight and compete for capital.
The judges included: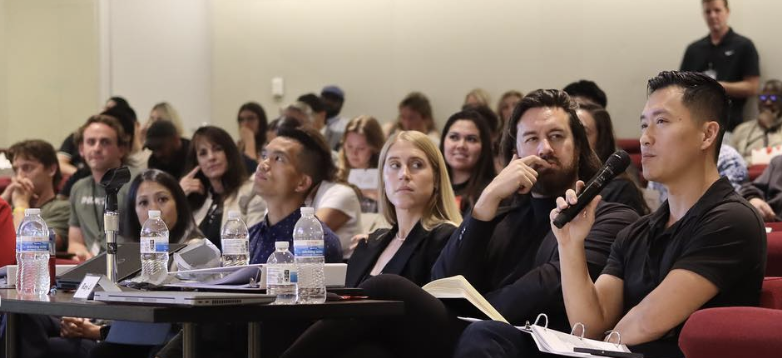 "What startup competitions deliver is an experience which connects all innovation stakeholders, like students pitching, experienced entrepreneurs, impactful investors, generous alumni and supportive faculty," said Mah. "What is unique at Biola is the combination of a community of redemptive innovators, entrepreneurs and investors with the deep roots of Christ-filled business strategies and biblically-sound theology. The Biola Startup Competition helps students conceptualize and launch businesses aimed at resolving the world's largest challenges through faith, skill and entrepreneurial spirit."
If you would like to be involved with the 2024 Competition as a sponsor, judge or coach, please contact Biola's Office of Innovation at innovation@biola.edu or (562) 903-4734.