Unusually chilly La Mirada May evenings did not deter 840 Biola University graduates from enthusiastically crossing the stage to receive their diplomas on May 5 and 6. Over 3,000 guests attended each ceremony. Biola President Dr. Barry H. Corey welcomed graduates and guests at each ceremony, expressing gratitude for the students.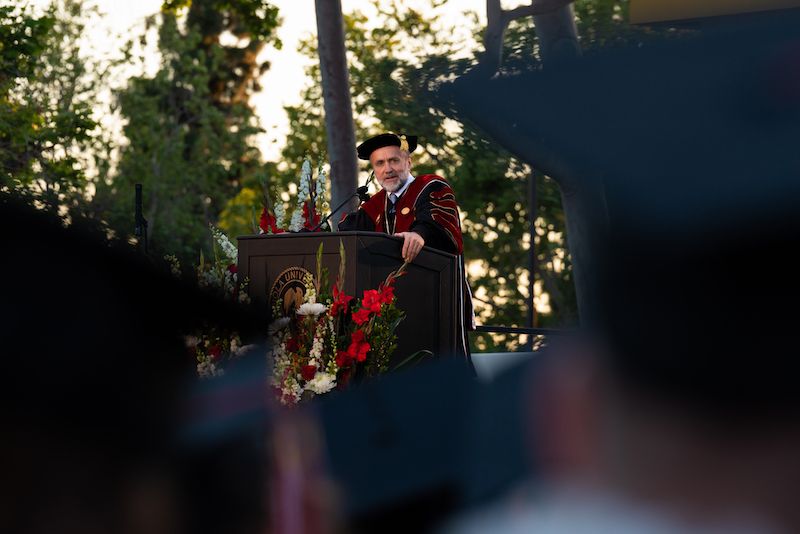 "Graduates, you've made us proud. Each of you has a story to tell and a lifetime to live out the unique way God will use you as a faithful presence in this world," said Corey. "You've been strengthened in mind and character through your education at Biola University, and we have been strengthened because of you. I represent a community grateful you have invested these years here."
Bobby Gruenewald, founder of YouVersion Bible app and pastor of Life.Church, delivered the keynote address at both ceremonies. On Saturday, Gruenewald surprised the crowd with a freestyle rap on stage — his career start was in the Christian music industry — during his address. In his speech, Gruenewald emphasized God's specific placement of each graduate in this time of history.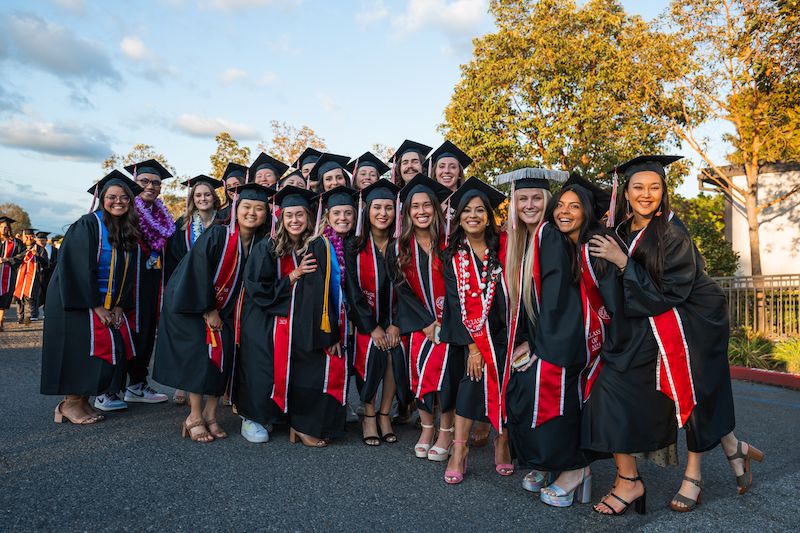 "Things are going to keep changing, and you're living in the middle of all these changes because you were meant to," he said. "You could have been born in the Middle Ages, you could have been born in the 1800s, but God placed you in this moment on the timeline of history. And when you think about how this graduating class has navigated a global pandemic … imagine what he thinks you're capable of if he put you in this moment of history."
After hearing Gruenewald's charges, graduates walked across the stage in celebration of their degree and shook hands with Corey. After the recessional, graduates met and celebrated with their guests around Biola's campus.
On Friday, May 5, graduates from the Cook School of Intercultural Studies, Rosemead School of Psychology, School of Education, School of Humanities and Social Sciences and School of Science, Technology and Health received their degrees. Graduate Morgan Stickney was honored during Friday's ceremony. Double Tokyo Paralympic gold medalist and bilateral amputee, Stickney overcame great challenges to complete her degree, which she started nearly seven years ago as a freshman on Biola's swim team.
On Saturday, graduates from the Crowell School of Business, School of Cinema and Media Arts, School of Fine Arts and Communication and Talbot School of Theology walked the stage to receive their diploma. Special recognition was given to former student Nate Lewis and his family who were present at the Saturday ceremony. Lewis was involved in a serious skateboarding accident as freshman at Biola in February of 2020 resulting in a traumatic brain injury. He would have graduated from Biola this year if he had been able to continue as a student. Lewis' father shared a few words during the ceremony in celebration of the strides he has taken in recovery.
For those who were unable to attend in person, a livestream of Ceremony A and Ceremony B were available to view the ceremonies and can be viewed for rewatching. Additional Biola commencement information can be found on Biola's commencement website.
Written by Sarah Dougher, media relations coordinator and administrative assistant. For more information, please email media.relations@biola.edu.