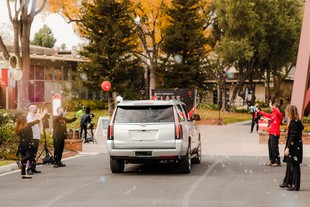 Biola University hosted its first-ever drive-thru commencement ceremony for both spring and fall 2020 graduates. Nearly 400 graduates and their families had the opportunity to drive through Biola's campus for a special ceremony experience on Dec. 10, 11 and 12. Milestones along the graduation route included video messages from professors and staff, photo opportunities at Biola landmarks and being able to walk across the commencement stage to receive their diploma from Biola University President Barry H. Corey.
"You've worked hard for your degree and most recently you've overcome the obstacles we have faced this year," said Corey in a video message along the route. "You've been strengthened in mind, you've been strengthened in character through your education at Biola University. And we've been strengthened because of you."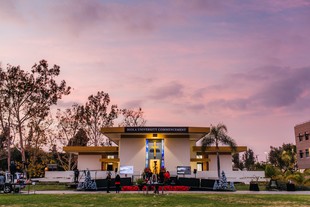 Due to the pandemic, Biola had not been able to host traditional ceremonies for its graduates this year. To honor 2020 graduates, Biola transformed the campus into an interactive drive-thru experience for graduates and their families with health and safety protocols to ensure a safe experience for all participants and staff.
Graduates entered Biola's campus through Lot A, the parking lot next to Sutherland Hall. There, they watched a 15-minute video message by Corey preceded by a prayer from Dean of Spiritual Development and Campus Pastor, Dr. Todd Pickett. Chair of Biola's Board of Trustees, Mike Maples, and Provost and Senior Vice President, Dr. Deborah Taylor, also gave encouraging words to graduates.
Cars were ushered onto campus after the message and were met by Biola faculty lining the driveway, cheering on graduates as they drove through the ceremony. Graduates received chords, stoles and gifts from their departments as well as a departing gift from the university at the exit. Cars could stop at one of two photo opportunities at Fluor Fountain or the Biola Bell Tower. The final stop was Calvary Chapel where graduates and their families could exit their car. Before walking across the stage, graduates rang one of the original Biola bells from 1914 — a tradition for all Biola graduates. Corey handed graduates their diploma and posed for a photo before they returned to their car and exited campus.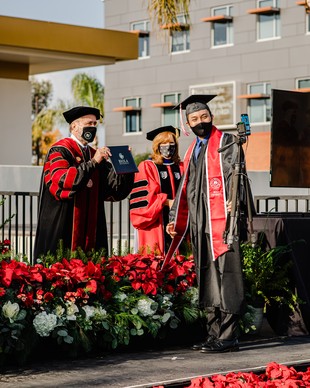 Biola's nine schools were split into three days of drive-thru ceremonies. On Thursday, graduates from the Cook School of Intercultural Studies, Crowell School of Business, and School of Science, Technology and Health drove through campus. On Friday, School of Humanities and Social Sciences, Rosemead School of Psychology, and School of Fine Arts and Communication experienced the drive-thru. On Saturday, ceremonies were held for the School of Cinema and Media Arts, School of Education and Talbot School of Theology.
Although not able to be celebrated in a traditional format, Biola is excited for the future of its graduates.
"Graduates, you've made us proud. And each of you has a story to tell and a lifetime to live out the unique way God will use you as a faithful presence in this world," said Corey.
Written by Sarah Dougher. For more information, contact Jenna Loumagne, assistant director of media relations and strategic communications, at jenna.loumagne@biola.edu.