Angelo "AJ" Boncore is a living testimony of what God can do when you surrender your life to him. Several years ago, Boncore struggled with an addiction to alcohol and drugs. God rescued him from his addictions and began giving him opportunities to serve in the church. Boncore started preparing for a career in engineering and got married while serving in his church's college ministry, when last year, he felt God calling him to full-time vocational ministry.
He was drawn to one of Talbot's newest programs — a combined bachelor's and master's program in preaching and pastoral ministry — which would allow him to enter ministry more quickly with a lower total tuition. Aside from the appeal of the program's length and cost, one of Boncore's favorite aspects of the program is the mentorship he's received from the program director, Brandon Cash (M.Div. '98).
"It is so valuable to have access to someone like Brandon, who is willing to be a guide rail for us, to point out potholes to avoid," said Boncore, now in his second year of the program. Cash is committed to regularly meeting with each undergraduate in the program and provides much-needed guidance in life and ministry — from talks about dating and marriage to ministry issues and academic progress.
Boncore is just one of several students who have taken advantage of one of Talbot's newest programs, an innovative combination of two degrees: a bachelor's degree in biblical and theological studies with a concentration in preaching and pastoral ministry (B.A. PPM), and a master's degree in Christian ministry and leadership with a specialization in preaching and pastoral ministry (M.A. PPM). Graduate students can directly enter the two-year M.A. PPM, or Biola undergraduates can take both degrees in a dovetailed program — the B.A. + M.A. PPM — that takes only five years.
Talbot professors and administrators started the B.A. + M.A. PPM program in response to several trends and needs among students. First, although Talbot's Master of Divinity program remains robust and popular, many denominations no longer require the three-year M.Div. as the standard pastoral degree. Many churches are willing to hire pastors who have any seminary degree, or even a bachelor's degree. As a result, many students have been preparing for ministry with shorter master's programs.
But Biola's bachelor's in biblical and theological studies is a Bible degree, not a ministry degree with practical courses in preaching, ministry or leadership; and some of Talbot's master's degrees are primarily academic — designed to prepare students for further academic studies — not designed for thorough ministry preparation. This new combination fills an important need. The B.A. PPM enhances Biola's undergraduate Bible degree by adding ministry training and mentoring. The M.A. PPM continues to develop students' personal character, theology, biblical interpretation, and ministry and preaching skills.
Second, the new combination helps students reach their goal more quickly, with lower student debt. Biola is committed to helping make education more affordable, but the reality is that many students are graduating with far more student debt than can be reasonably managed on a pastor's salary. By streamlining both degrees, many students will be able to begin ministry sooner, and with less debt shackling them.
How Does It Work?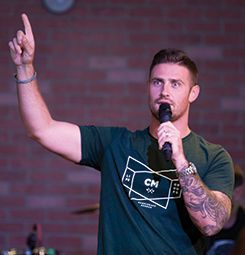 Students in Biola's bachelor's program in biblical and theological studies can apply for the concentration in preaching and pastoral ministry at the end of their freshman year, which gives them time to demonstrate both academic excellence and ministry involvement. During their sophomore and junior years, B.A. PPM students receive mentoring, stay involved in volunteer ministry internships and maintain academic excellence. In their senior year, they take both bachelor's and master's courses. By the time they graduate with a bachelor's degree, they have enough graduate credits so that the M.A. PPM takes only one year instead of the typical two years. Students without the B.A. PPM can take the M.A. PPM at the normal pace of about two years.
Talbot's Partnership With The Kern Foundation
Starting a new program can be costly and even risky. New programs may require hiring new faculty and staff; and to be successful, new programs need to be marketed and advertised well. Because of the costs and potential risks, Biola University carefully examines potential new programs to make sure they will serve the students' needs and will be financially viable.
Support from the Kern Foundation was absolutely essential for starting the new B.A. + M.A. program. Robert and Patricia Kern started the Kern Foundation in 1998 after selling Generac, the generator company Robert Kern founded. The Kerns wanted to use their wealth to advance several purposes, including STEM education, advancing a theology of work and reinvigorating the church by supporting pastoral training and pastoral support networks. The Kern Foundation and Talbot School of Theology have now been partners for seven years in various projects related to the theology of work and pastoral training.
In 2013, the Kern Foundation approached Talbot and asked if they could support the school in creating a program that would help students prepare for ministry in a more streamlined way, combining a bachelor's and master's degree that could be completed in five years, instead of the six to eight years it normally takes. Kern had already helped organize a network of over a dozen seminaries that are pursuing or have already launched similar programs. Kern offered a generous grant of $550,000 that would help Talbot fund the new program for its first four years, including funds for scholarships, marketing and hiring new faculty. Talbot continues to be a part of this network of schools, working with other seminaries to refine and advance the five-year B.A. + M.A.
Excellent Bachelor's Program In Biblical And Theological Studies
During the planning stages of the new program, Talbot Dean Clinton E. Arnold felt a great deal of confidence that the program would succeed, especially because of the strength of Talbot's undergraduate biblical and theological studies program. Over the years, Talbot graduate professors have noticed that students with Biola's bachelor's in biblical and theological studies were very academically well prepared for graduate work. They experience four years of study with excellent undergraduate faculty who are widely published scholars, including Kenneth Berding, David Horner, Joanne Jung, Michelle Lee-Barnewall, Darian Lockett, Robert Lister, Jonathan Lister and Jason McMartin, to name just a few.
Other seminaries also have observed the academic rigor that Biola alumni demonstrate when they enter graduate programs around the country. Nicholas Remeyer ('17), a student just starting the master's portion of the program, said, "The biblical and theological studies B.A. prepared me really well to enter graduate school at Talbot."
But the bachelor's in biblical and theological studies, by itself, does not fully prepare students for ministry in a church setting. Since it is not a ministry degree, it does not have any coursework or internships in preaching, ministry or leadership. However, the strength of the degree in theology, Bible and biblical languages means that students are well-prepared for graduate courses, especially preaching courses that require a solid biblical and theological foundation.
The B.A. PPM program is academically challenging. Students in the program not only take graduate courses their senior year, but also earn advanced standing, which is when undergraduate courses fulfill graduate requirements. For example, Greek is the same whether taught to students earning a bachelor's or a master's. But in order to qualify for advanced standing, undergraduate students need to demonstrate that they have mastered the subject matter at the graduate level. Because of this academic demand, enrollment in the B.A. PPM is limited to those who have already demonstrated academic excellence in their freshman year.
Excellent Preparation In Preaching
The preaching and pastoral ministry degree is able to take advantage of a truly exceptional homiletics faculty at Talbot. The school's senior homiletics professors, Don Sunukjian and Kent Edwards, are in wide demand for seminars, conferences and Doctor of Ministry preaching courses across the country and even around the world. Both are authors of award-winning preaching textbooks — Invitation to Biblical Preaching, by Sunukjian, and Deep Preaching: Creating Sermons that Go Beyond the Superficial, by Edwards — as well as scores of contributions to books, commentaries, journals and preaching resources. Each has more than 30 years of experience in the pulpit.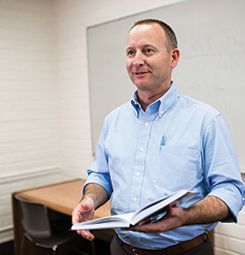 They are joined this year by Cash, who has served in pastoral ministry for almost 25 years, including 19 years as a pastor at Oceanside Christian Fellowship, and seven years as the chaplain for the Los Angeles Dodgers. As Cash begins teaching at Talbot, he is completing his doctorate in Old Testament and homiletics, and also finishing a homiletical commentary on Daniel in the new Kerux series (co-written with Talbot emeritus professor Tom Finley). Cash will teach preaching courses and also direct the B.A. + M.A. program.
Sunukjian is enthusiastic about the new program: "The new M.A. PPM degree gives all the same pastoral skills as Talbot's other degrees, but with the added bonus of more preaching classes."
Students in the M.A. PPM take the same two preaching classes as M.Div. students, plus additional classes on how to preach from different kinds of material in the Bible, such as narrative literature and Old Testament wisdom and poetic literature. Having two full years of preaching classes prepares students to craft sermons that demonstrate "biblical accuracy, oral clarity and contemporary relevance" (as Talbot's catalog phrases it). Students not only learn the best methods for preparing sermons, but are personally coached as they present sermons and receive feedback from other students and our preaching professors. Skilled feedback like that is almost impossible to find once students graduate and are regularly preaching.
During the planning stages of the B.A. + M.A. program, there were some concerns that students would not be ready to take graduate courses during their senior year. But as B.A. + M.A. students have reached their senior year, they have demonstrated their readiness. Sunukjian, who has critiqued student sermons his entire career, said, "Their sermons in preaching classes have the same fine quality as those of the graduate students."
Emphasis On Practical Ministry And Spiritual Formation
Talbot's M.Div. already has a significant directed ministry internship program that helps students grow in their ministry skills, and a spiritual formation program that is imitated and admired by other schools. The M.A. PPM takes advantage of these M.Div. features, helping each student grow in their spiritual lives and their ability to serve others in the church.
But what about those in the B.A. PPM? When students enter the B.A. PPM, usually in their sophomore year, they are paired up with a ministry mentor. Boncore is just one of the students Cash regularly meets with at least four times a semester.
"The best way to describe it is having a big brother in the faith," Cash said. "I try to help them get a sense of perspective. For example, I let them know that they don't have to figure out their 'sweet spot' in ministry right away. It is ok to try different things, especially while they are in their ministry internships."
Boncore's studies and time with his ministry mentor is helping him not only for the future, but right now, in his role as director of college ministry at Saddleback Anaheim. His focus right now is on "building relationships with people, being available to love them well and speak truth into their life." For that reason, he is especially looking forward to the preaching classes in his last two years in the program.
"I was also really drawn to the M.A. PPM because of how similar it is to the MDiv.," said Boncore. "I love having the opportunity to study the Bible in the original languages. I have had to work hard at studying Greek, but I wish I could fit Hebrew into the degree also." Since most students are interns or volunteers, Cash also encourages students in their relationships with their supervising pastors. "I try to advise them on how to serve well and not have a critical spirit. ... Seminary can develop an idealism about how ministry ought to be done, and if they aren't careful, they can become overly critical about the distance between reality and ideal."

Cash has also developed two retreats for the B.A. PPM students. "The best feedback we get is about our annual spring retreat. In the first year, I bring in three pastors who each have been in ministry for more than 30 years. They only speak for a half hour each, but then the students pepper them with questions for hours." Cash's goal is to help students see what makes for a lifetime of pastoral ministry.
The second retreat focuses on church planting, because, as Cash points out, "The future of the church is in church planting. Statistics show that new church plants are the most evangelistic." Cash brings in a church planting consultant and takes students on a visit to an inner-city church plant.
"I hope some guys will want to plant churches. And even for those who do not, there is much to learn from the entrepreneurial spirit that successful church planters demonstrate." This emphasis is paying off, as several B.A. PPM students are now making plans to be involved in planting churches when they graduate.
For The Church
Talbot is committed to supporting churches by preparing people for ministry. Cash, who received his M.Div. from Talbot, talks about how valuable his education was for him in ministry.
"When I go to church-planting conferences, I see many pastors who never got the opportunity to develop theological depth, and I feel so blessed for my theological training," Cash said.
The B.A. + M.A. PPM program starts off with academic rigor in undergraduate Bible and theology. "Then I keep chirping in their ears about the church while they are sophomores and juniors, before they enter the M.A. ," he said. "It results in a natural blending of the academic rigor of Bible classes and ministry formation." Eshleman also felt that the B.A. PPM added "more practicality to the biblical studies classes" and that the preaching classes were crucial to preparing for future ministry.
The B.A. + M.A. PPM strives to prepare students in both character and theological training. "The pastoral epistles emphasize three qualities for leaders: character, biblical/theological knowledge and gifting. But the Bible emphasizes character and biblical knowledge far more than gifting. One of the reasons for moral failure in the church is that we have turned it upside down, emphasizing gifting more than character or biblical training," Cash said.
Cash has high hopes for the future of the B.A. + M.A. in Preaching and Pastoral Ministry. "As our graduates leave here and go into ministry, I'm optimistic our program will get a good reputation with local churches. We are excited to be influencing the next generation of pastors."