More than 800 graduates crossed the stage at Biola University's commencement ceremonies in May. For the first time since 2019, the ceremonies were held in a traditional format, with each ceremony hosting over 3,000 guests. Biola's President Dr. Barry H. Corey acknowledged the unique challenge 2022 graduates overcame to receive their diploma this year and recognized how they have enhanced the values that Biola was built on.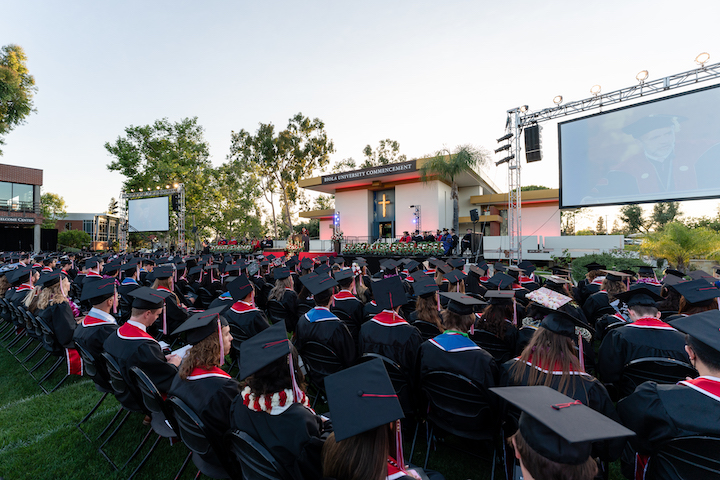 "This past year Biola has many reasons to give thanks," said Corey. "The intellectual, spiritual, compassionate, athletic and vocational endeavors across the disciplines, exemplified in outstanding students like you, who continue to reflect the 114-year tradition of a biblically centered, Christ-exalting, academically robust, compassion-oriented education, with the expectation that our best days are yet to come. As are yours!"
The two ceremonies were both held during temperate La Mirada evenings. On Friday, May 6, graduates from the Cook School of Intercultural Studies, School of Cinema and Media Arts, School of Education, School of Humanities and Social Sciences and the School of Science, Technology and Health walked the stage to receive their degrees. On Saturday, May 7, graduates from Crowell School of Business, Rosemead School of Psychology, School of Fine Arts and Communication and Talbot School of Theology crossed the stage to receive their diplomas.
Corey also gave the keynote address on both nights. The nights were special for graduates and their families, since many people have not had the opportunity to experience a completely traditional commencement ceremony for almost three years. On Friday, graduate Phylis Pringle, who had completed her undergraduate degree at Biola's original downtown Los Angeles campus in 1959, walked the stage with her Ph.D., and on Saturday, Corey's youngest child, Samuel Corey, walked the stage to receive his undergraduate degree in psychology.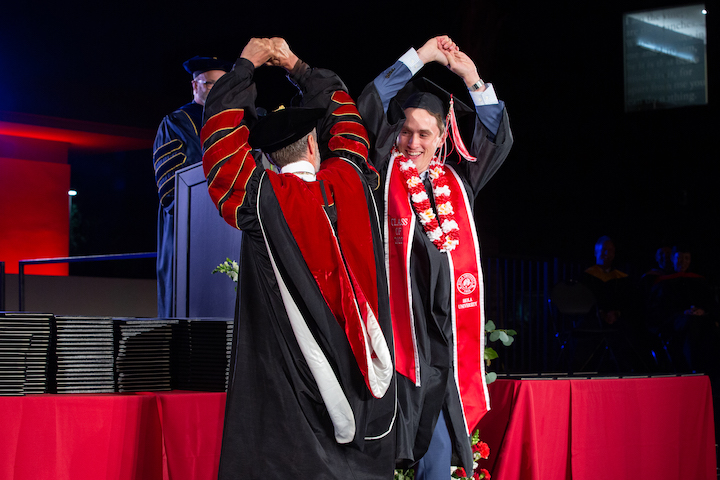 In his keynote address, Corey left the graduates with three pieces of advice.
"First…Life will be filled with winding roads. Even when you feel like you have things together and things figured out. But God makes your crooked roads straight," Corey said. "Second…You are so beloved by a gracious God, and you give him pleasure simply because you are his child. Third…Out of profound gratitude for being saved by grace, make God's grace alive through you as you love those God places in your path, even if those paths aren't straight."
After hearing from Corey, graduates walked across the stage and received their diploma from Corey, shook his hand, and then returned to their seat.
For those who were unable to attend in person, a livestream of Ceremony A and Ceremony B were available to view the ceremonies and can be viewed for rewatching. Additional Biola commencement information can be found on Biola's commencement website.
Written by Sarah Dougher, media relations coordinator; and administrative assistant to the senior director of university communications. For more information, please email media.relations@biola.edu.