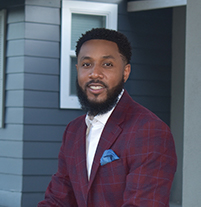 John-Paul Foster refused to go to church multiple times. Now, he pastors and preaches at Los Angeles' historic Faithful Central Bible Church, an Inglewood church that started in 1936 and averages more than 3,000 weekly attendees. Foster can still hardly believe how God paved a way for him to be where he is.
"As soon as I graduated from Talbot, I ended up here at Faithful Central, which still blows my mind today," Foster said. "But God is faithful." Serving as the assistant pastor to Bishop Kenneth C. Ulmer, the senior pastor-teacher at Faithful Central for over 35 years, Foster feels fortunate to pastor under Ulmer and to gain wisdom from his many years in ministry and more than 40 years of marriage and being a father.
"Faithful Central has always been a pillar in the community, so I knew about Faithful Central before I was a pastor here," Foster said. "They've done amazing things in the community." After Foster received his bachelor's degree in biblical and theological studies, he pursued a Master of Arts in Theology at Talbot.
"I went to Talbot because I knew just how good the education is, how consistent Biola is," Foster said. "Everything revolves around God's Word and they don't budge, and though the culture is shifting and changing, Biola stays true to what God's Word says and in the most loving way possible."
Foster, who didn't grow up in a church environment, became a Christian when he was an upperclassmen in high school. He was reluctant to go to church and felt like he was searching for a God who couldn't be found. But he still remembers the day he visited his friend's church — he listened to the preacher who gave the message of salvation and Jesus Christ, he felt loved by the people who welcomed him in, and now having become a believer, he realizes what he felt was the Spirit.
"I gave my life to him that day and never turned back," Foster said. He was originally born and raised in England but after his parents separated when he was 10, he moved to Florida and later to California. He's now a husband to his wife Karmen and has two kids.
Foster is currently pursuing his Doctor of Ministry in advanced biblical preaching at Talbot and also serving as an adjunct professor at Biola in an undergraduate course that ignited his passion for the Word: Biblical Interpretation and Spiritual Formation. Now having taught multiple sections of this class since the fall of 2018, he hopes to continue teaching in the future.
"As far as teaching, I think it's one of the greatest opportunities you could ever have, to be able to pour into the lives of believers and students who want to know more about Christ," Foster said. "I think that's why this particular course means so much to me because it's a foundational course. It really teaches you how to interpret God's Word, how to understand it, and I think many times, we just assume that as Christians, we know how to read God's Word and interpret it just because we go to church every [week]. But we don't, so it challenges us to go deeper."