World-renowned Danish artists Peter Brandes and Maja Lisa Engelhardt, who have been in large part responsible for a renaissance in Danish church interiors, brought their expertise to Biola University to renovate Calvary Chapel, the site of Talbot's weekly chapel on campus on Tuesdays. For the first time in their careers as artists, the married couple collaborated together to add a new dimension of sacred space, reverence and beauty to the chapel using unprecedented technology.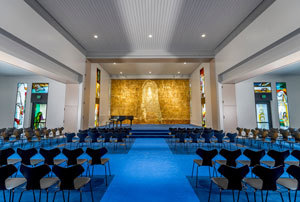 While preserving the original architecture designed by regional architect John Andre Gougeon, the artists transformed the chapel, originally built in 1975, with contemporary art in the form of stained-glass windows, a gilded wall relief, innovative lighting, and redesigned architectural elements including significant changes to the flooring, walls, seating, lighting and colors.
Engelhardt created a 24k gilded relief titled "Resurrection" (17.5 feet tall, 31 feet wide) and a 500-pound gilded bronze cross sculpture installed above the building's entrance. Brandes created 32 hand-cut stained-glass windows depicting biblical narratives from the Old and New Testaments that focus on themes of resurrection and the promise of new life in Christ.
Using innovative new applications of LED technology to light the stained-glass windows, an internally lit sheet of acrylic glass containing nano-crystals, allows illumination of the windows both outside and inside, day or night, and is the first of its kind in the world. The outer pane of each stained-glass window portrays a biblical theme in black-and-white and the inner pane repeats the motif in brilliant color.
The gilded wall relief sculpture entitled "Resurrection," installed on the entire west wall, bathes the interior space in warm golden light and seeks to capture the mystery of Easter morning. The sculptural image features an abstract representation of the Risen Christ as he leaves the burial tomb. Originally sculpted from five tons of clay and then cast in plaster, the sculpture is gilded in 24k gold and additional varieties to highlight the center figure of the sculpted wall.
"We are profoundly grateful to Maja Lisa Engelhardt and Peter Brandes for renewing this sacred space with their stunning artwork," said Biola University President Barry H. Corey. "It is our hope that this visual and architectural transformation will draw visitors into a new depth of worship and stand as a testimony to Biola's biblically centered mission for generations to come."
As liturgical artists, Brandes and Engelhardt firmly believe that well-designed sacred spaces are influenced by the relationships between the architectural forms and the liturgy spoken in the space.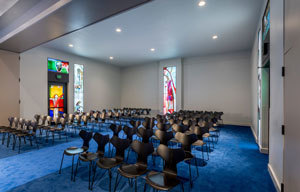 Calvary Chapel's renovation began in June with the arrival of a trans-Atlantic shipment from Denmark, containing all the works of art and tools to perform the work.
The goal of the renovation is to enrich campus congregants' experience of worship in Calvary Chapel, and hopefully bring about a deeper connection to the Word during services. Talbot will host a series of chapel services in the 2018–19 academic year devoted to the biblical narratives showcased in the stained-glass windows.
The renovation has been funded through generous donations and special interest in this project taken by leaders like philanthropist and former Biola visionary-in-residence Roberta Ahmanson.
A service of worship and dedication was held in Calvary Chapel on Sept. 7, and was followed by an accompanying exhibit in The Earl & Virginia Green Art Gallery.
The artistic installations and renovations transforming Calvary Chapel will boldly stand for generations to come as a visual testimony to Biola's continued commitment as an institution of Christian faith and its core values of truth, transformation and testimony.
Visit biola.edu/calvary-chapel to personally experience a self-guided tour.