Psalm 23 is not exactly about shepherds or sheep. It is a royal psalm about King YHWH and his covenant relationship with the Davidic king, and it speaks powerfully to me as I journey through cancer treatment.
The Lord has brought Psalm 23 to my attention repeatedly over the course of the summer, as I have been in chemo treatments for Leukemia. Numerous songs on my playlist quote it or allude to it. Many of my friends have referred to it in their cards of encouragement, and it just seems to pop up "coincidentally" wherever I am looking. One colleague who visited me at the hospital even recited it to me in Hebrew, which incidentally, inspired me to commit it to memory in Hebrew while I am spending months in the hospital.

As I have read the psalm repeatedly for memorization, I have thought afresh about the historical-cultural referents, and I have concluded that it is not exactly about shepherds or sheep. I mean no disrespect to Phillip Keller who famously wrote A Shepherd Looks at Psalm 23 (Zondervan, 1970), but from an ancient Near Eastern perspective, I would argue that Psalm 23 is about King YHWH and His covenant relationship to the Davidic king. Let me explain my fresh understanding in this brief commentary, quoting from the ESV translation.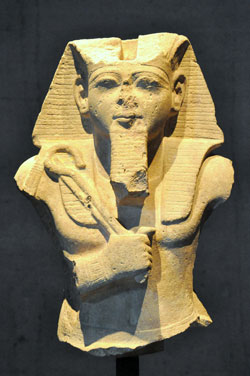 1 The LORD is my shepherd; I shall not want.
Kings all over the ancient Near East—from Egypt to Mesopotamia—in various time periods portray themselves as "shepherds" (e.g. see the depiction of Ramses II with shepherd's crook).[1] Shepherding is a well-established metaphor for kingship. When human kings used the metaphor, no one assumed that the king had actual, literal experience with sheep in the pasture. That is because it is a metaphor! (King David's literal experience as a shepherd is not the norm; David is the exception to this rule.) Here in the opening verse, David calls the LORD "my Shepherd," and if we interpret that in its historical-cultural context, we must understand that the psalm is affirming YHWH's kingship.
2 He makes me lie down in green pastures. He leads me beside still waters.
3 He restores my soul. He leads me in paths of righteousness for his name's sake.
As the ultimate King of Israel, YHWH supplies, guides, and protects his people. YHWH is the Suzerain, the Great King who has this very job description in his covenant that he made with His vassal David. David does "not lack" anything (v. 1) because YHWH is his Provider (one of the primary guarantees of a suzerain in the ancient Near East). The shepherding/sheep metaphor is continued here with making David "lie down"—satiated from abundance!—"in green pastures" and leading him beside "restful waters." The Divine King refreshes David ("restores my soul") and leads him "in right ruts for his name's sake." Have you ever wondered what "His name's sake" is all about? Again, this standard covenant/treaty language is quite familiar from the ancient Near East.[2] The vassal (David) stands as a representative of his Suzerain (YHWH), and David is supposed to represent his Superior well. The covenant relationship exists so that David can make God look good. That is, YHWH protects, guides, and supplies David so that His own reputation (i.e. His name) is made known. YHWH will reveal Himself through His vassal. Indeed, YHWH "leads…for His name's sake."
4 Even though I walk through the valley of the shadow of death, I will fear no evil, for you are with me; your rod and your staff, they comfort me.
"Even if" king David happens to lead Israel through a narrow pass that is infamous for ambush and defeat ("the valley of the shadow of death"), he "will fear no harm, because" the Divine King is WITH HIM. YHWH is present with his people, leading them in battle and fighting for them, even though David stands at the human helm. David draws comfort from the reality of God's kingship, represented by the royal "rod" and the shepherd's "staff" (the metaphors are mixed here because kings and shepherds both hold the scepter/crook).
Verse 4 is the literary high point and center of the psalm. The phrase, "because you are with me" (ki 'attah 'immadi), begins the second half of the psalm (by word count) and it shifts the God language from third person to the more personal second person. The central emphasis on God's presence in verse 4 is in fact what the Davidic covenant is all about—"His name's sake" (v. 3). YHWH reveals his own reputation as the ultimate King through the Davidic king. YHWH makes known his own sovereign presence through David's vassal kingship. God shows up, as Suzerain, to protect, guide and supply his king and his covenant people.
Personal Reflection
This emphasis on God's presence is such an important reminder to me at this time. God is with his covenant people when they are passing through enemy territory and brushing shoulders with death itself. I know God is with me and my family as we face our enemies, the "Leukemiites," and that is why "I will fear no harm" during this time of treatment. I am in good hands, and I don't just mean the skilled medical personnel. I am in God's hands (cf. Psalm 31:15; John 10:28-29) and none of this takes Him by surprise. Indeed, He is with me. He knows what he is doing, and I trust him.
5 You prepare a table before me in the presence of my enemies; you anoint my head with oil; my cup overflows.
Here the Divine King lavishly and luxuriously blesses David/Israel as they pass through the enemy territory. The enemies (nations who are not in covenant with YHWH) observe Israel's smorgasbord, and this magnifies the Suzerain's name as the Uber-Provider.[3] The Suzerain also anoints his vassal's "head with oil."[4] This refers to YHWH's placing his chosen representative on the throne, legitimating David as king. Even if nothing else I have said so far convinces you that Psalm 23 is a royal psalm, then this anointing reference should seal the deal!
6 Surely goodness and mercy shall follow me all the days of my life, and I shall dwell in the house of the LORD forever.
"Only order and loyalty pursues" David all the days of his life. In other words, David displays order and loyalty as YHWH's vassal, representing his Suzerain well. Instead of enemies on David's tail, chasing him all the time, David leaves only a wake of "order and loyalty," thereby spreading YHWH's reputation for the same.
Finally, David acknowledges YHWH's kingship by stating that he dwells in the temple, which is actually YHWH's palace. No human actually "dwells" there; it is God's throne room in the midst of his people. David's dwelling is not exactly "in" the temple, although he does live "by/beside/at" it. That is, the Davidic palace is not the same as YHWH's palace, and we know that the Davidic palace is a little lower (geographically speaking) than YHWH's palace. YHWH's "house" is the primary palatial complex, while David's house is annexed and assimilated. Therefore, David closes the psalm appropriately, by acknowledging that YHWH is the ultimate King enthroned in Israel, and he lives long in the blessing and protection of God's royal presence.
Comments about Related Passages
First, it should not surprise us that the next psalm (24) is all about the Divine King in his high, holy palace: the "King of glory" who returns to his throne room after leading Israel in battle. Psalms 23 and 24 are juxtaposed intentionally because of their shared royal theme. Second, when Jesus identifies as the "good shepherd" (John 10), he identifies as YHWH, the Divine King who is referenced in Psalm 23 and elsewhere. The Jewish audience clearly understood that Jesus was claiming deity, and they considered it blasphemy.
Concluding Reflections about God's Presence
One thing that has always bothered me about Psalm 23 is how it is mostly associated with funerals in contemporary usage. Even I have read this psalm publicly at memorial services in the past! But the phrase "valley of the shadow of death" is not referencing the eventuality of death itself but a position in which one is threatened by the prospect of death. That is quite a big difference. This psalm is for the living, not the dead. The journey following a cancer diagnosis is a very appropriate example of such a dark valley. Indeed this psalm is relevant to anyone who experiences a life-threatening encounter. That person should remember, with the psalmist, that this dangerous pass is a "right path," one that the Divine King has chosen ahead of time and into which He leads His people. The dark direction is the "right path" because God is at the front. He "leads" us through it, and this is why we can "fear no harm." We can experience "comfort" when we remember that God is the one holding the "rod" and the "staff" at the helm. God's sovereign leadership is one of the ways this psalm shows God's presence in our lives.
The second point that strikes me about God's presence in this psalm is how it emphasizes God's role as the Provider for his people. For a long time before the cancer diagnosis, my wife and I were anxious about finances and asked God frequently to help us pay the bills and pay down debts. We worked hard at our jobs and sought opportunities for additional income whenever possible. But the cancer diagnosis brought our striving to a halt. We were unable to work and even went on disability for a time. Yet it is clear that the Royal Shepherd wanted to demonstrate his provision in our lives! We have been overtaken by His "order" and "loyalty" as he moves His army of people to give generously and thoughtfully to ensure that we "not lack" anything. God literally made us "lie down" and "be still" (cf. Ps 46:10) so that we could experience His "green pastures." The "restful waters" of meal trains, gift cards, acts of service, prayer support, visitation and financial gifts, washed our financial anxieties away while we idly received and said "thank you," repeatedly. Therefore, it was during the face-off with our enemies, the "Leukemiites," that the Divine King prepared His "table" for us and hosted an elaborate feast with overflowing resources that actually restored our souls.
Halleluyah! God is a loving, good Shepherd who leads us and provides for us as only a great King could do! His presence with us in this mortal life is something we can experience tangibly through trust in His wise order and through receiving his lavish gifts, which often come from his covenant-people.
Notes
For literary and iconographic examples of kings and deities as shepherds see J. W. Hilber "Psalms" in Zondervan Illustrated Bible Backgrounds Commentary: Old Testament (Grand Rapids: Zondervan, 2009; ed. J. H. Walton) vol. 5, pp. 340, 461; cf. Gen 48:15; 2 Sam 5:2; 1 Chron 11:2; Ps 78:70-72, etc.
See J. H. Walton and J. H. Walton, The Lost World of the Torah (InterVarsity Press, 2019), 49-50, 52; cf. Ezek 36:22.
For an example of an Egyptian suzerain providing gifts to a vassal king while enemies watch in humiliation, see W. L. Moran, The Amarna Letters (Baltimore: The Johns Hopkins University Press, 1992) EA 100:33-36; p. 172.
For an example of an Assyrian suzerain anointing his Arabian vassal with oil see S. Parpola and K. Watanabe, Neo-Assyrian Treaties and Loyalty Oaths (Helsinki, 1988) 10:8-11.