It's encouraging to see someone who looks like you succeeding in a way you hope to succeed. This is the motivation behind the Woven Conference — to provide women with the opportunity to hear from other Christian women who have risen in the ranks of their chosen field, have witnessed God's work in their lives and have a desire to encourage the next generation of women entering the workforce. Founded nine years ago by Crowell School of Business professor of marketing Laureen Mgrdichian, Woven has also been a place for established working women to come and be encouraged and refreshed.
"The whole intent of the conference is to encourage women in God's Word, in their walk with the Lord and in the workplace," said Mgridichian. "The workplace is where God has placed them, to worship Him in their work, to be salt and light to those around them and to love those they encounter."
Students, alumnae and employees attend the conference every year to hear from different women leaders in different industries. Students are encouraged to hear from women who have steps ahead of them in their careers.
"I was especially struck by the women's hearts for serving others, whether it was for shepherding or for missions," said business administration alumna Madeleine Prater ('21). "Hearing from these incredible women was both encouraging and helpful. They shared their stories with sincerity and with a true desire to help others."
The 2023 speakers were alumna Michelle Lee, currently vice president of marketing at Aplos where she heads up marketing strategy, product marketing, growth and digital marketing efforts worldwide. Her 25-plus years of experience in Silicon Valley tech companies include various executive roles leading strategy, branding, product, growth and revenues at successful companies across SaaS, fintech, mobile, gaming and edtech companies, including launching iPhone and iPods in education worldwide at Apple. In her spare time, she enjoys mentoring fellow women and AAPI in tech.
Lee shared how she "fell" into business after being a history and social sciences major, and how her journey was a series of abundant and diverse experiences. She encouraged attendees to ask questions, be curious, and to not be afraid to speak up during the conference.
Also speaking was Dr. Rachel Bodell, associate professor of marketing, innovation and leadership at Crowell. Rachel has three university degrees from three different countries. Her industry experience includes healthcare information technology, cosmetics and hospitality. She has worked for companies like Bobbi Brown (Estee Lauder) and CompuGroup Medical AG, with experience ranging from customer service to sales and promotion to business development. One of her most exciting projects of 2023 is The Bible in a Year (The Story) podcast, which can be found on any podcast platform.
Bodell brought hilarity and a sense of encouragement in her presentation. She shared how, despite living in so many places, she learned to use being an "outsider" to her advantage. She encouraged attendees to harness their curiosity and how to find their talents.
"Both speakers were delightfully witty and transparent in sharing their experiences," co-organizer and student Kathryn Hansen observed. "I met so many friendly Biola undergrads — women and men — plus remarkable people from all stages of life and locations. We celebrated new jobs and new opportunities and ended with a mouth-watering array of homemade cookies. I left feeling encouraged by my new friends and heartened by my outlook for the future. Woven was full of laughter, warmth, and surprises. Special thanks to Professor Mgrdichian, SGA and both speakers for the success of the event!"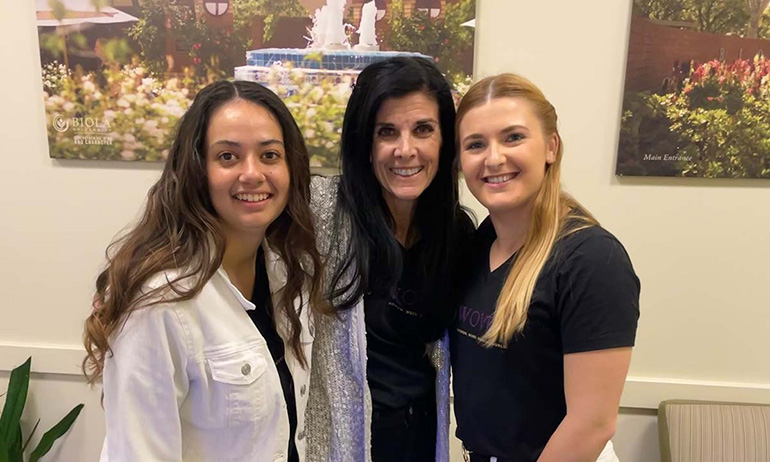 To learn more about future events from the Crowell School of Business, check our schedule on biola.edu/events.