Once again, Biola University has been named one of America's best colleges, earning a spot in the highest tier of the "best national universities" category of U.S. News and World Report's Best Colleges 2023 rankings, released Sept. 12. Notably, Biola was also recognized on six special recognition lists.
"We celebrate the hard work of our faculty and staff reflected in our ranking in the higher U.S. News & World Report tier for America's national universities," said Biola University President Barry H. Corey. "It's encouraging to be recognized for the excellent education and thriving community Biola offers to students. Special recognition on several lists this year highlights and affirms our focus on Biola's educational value, academic quality, student accessibility, diversity on campus and our commitment to our nursing students and aspiring educators."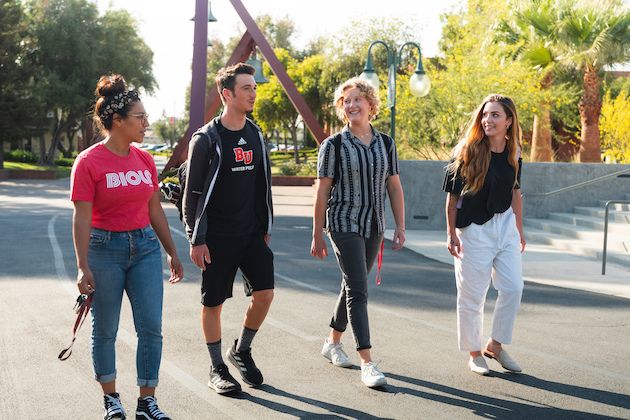 The U.S. News rankings are considered the most notable of the annual published college rankings. For over 20 years, Biola has been included on the U.S. News list of national universities, which consists of 440 institutions that "offer a wide range of undergraduate majors as well as master's and doctoral degrees," according to U.S. News. This year, Biola is ranked at No. 194 overall, and is one of 7 universities that are governing members of the Council for Christian Colleges & Universities (CCCU) to be ranked in the first tier, which consists of 330 schools. Biola is the top ranked CCCU member school in the National Universities category.
To calculate the rankings, U.S. News uses quantitative data that assesses universities' performance in everything from graduation and retention rates to faculty resources, measuring up to 17 indicators of academic quality.
The annual guide features Biola on six special recognition lists in the 2023 rankings. For the second year in a row, Biola is included on U.S. News' Undergraduate Nursing Programs list, a brand-new list as of last year. Deans and senior faculty of each ranked school peer-ranked other institutions' Bachelor of Science in Nursing (BSN) programs on a 1-5 scale. Learn more about Biola's nursing programs.
Additionally, Biola is acknowledged on the 2023 Best Value Schools list for its strong quality to price ratio, discount rate and high academic quality alongside its net price. Biola ranked at #96 out of 222 national universities which puts Biola in the top 43%. The university is also recognized on the 2023 Best Undergraduate Teaching Among National Universities, which recognizes schools with exceptional teaching programs. Biola was ranked at 54 out of 78 schools on the list of national universities. Ranked at #140 out of 439 national universities, Biola is also included on the 2023 Top Performers on Social Mobility list for the university's strong outcomes for Pell Grant recipient students.
Though previously included on a similar list, Biola was recognized on this year's 2023 Campus Ethnic Diversity list. Biola has a 0.67 diversity index, with 1 indicating the most ethnically diverse. This index measures the probability that any two people chosen at random from a given school are of different races or ethnic groups. Biola is proud of its diverse student body and faculty and staff, and encourages unity amidst diversity on campus through its academic courses, co-curricular resources and spiritual development.
The annual guide also spotlights Biola as one of the nation's "2023 A+ schools for B students," which includes universities that are deemed as top colleges that seek a broad and engaged student body, admitting students who are well-rounded and have a sense of purpose, and not immediately disqualifying a student from admission who may have less than a 4.0 GPA average.
Biola's U.S. News ranking is the latest of national recognitions for the university. In late August, Princeton Review recognized Biola as a 2023 Best Regional College — one of 126 best colleges in the Best in the West category. Princeton Review highlights 655 colleges across five regional zones that are considered academically outstanding and worth students' consideration during a college search. Students surveyed for Princeton Review shared the following about Biola: "'The school's focus on learning is equaled by its attention to spirituality ... The curriculum incorporates 'the things we care about into lessons (connections to real life scenarios, jobs, and the Bible)' and integrates 'outside experiences such as field-related volunteer work, observation hours, and internships' to offer 'rigorous yet engaging' programs." Read more at Biola's Princeton Review profile.
U.S. News' Best Colleges 2023 guidebook will be in stores in late October and is available for pre-order online.
Learn more about Biola's academic programs across its nine schools. Biola launched new programs this year including the fully-online B.S. in Entertainment Business in the School of Cinema and Media Arts as well as the fully-online B.S. in Communication Studies in the School of Fine Arts and Communication. Biola's Rosemead School of Psychology will launch a master's in Industrial-Organizational Psychology Program next Fall.
Written by Sarah Dougher, media relations coordinator and administrative assistant to the senior director of university communications. For more information, contact media.relations@biola.edu.