Robert Harp, Executive Director of Biola University's newly formed Office of Innovation, champion of Biola's annual Startup Competition and beloved professor at Crowell School of Business, passed away unexpectedly at home on Friday, July 17, University leaders announced Friday. The beloved administrator and leader, who devoted his career to business as ministry through building relationships with local and global partners, was 61. He shared his passion for the impact Biola students can make in business and entrepreneurship for the past five years.
"Brothers and sisters in Christ within the Biola community and around the globe were blessed by Bob's life," said Biola President Barry H. Corey. "It's clear that his Kingdom impact has been vast, and I expect it will bear fruit for years to come."
The Biola community is grieving the loss of Harp whose passion for business and ministry was only outmatched by his kind and friendly demeanor.
"Since my very first meeting with Bob, he has held a special place in my heart. Bob always took the time to stop me on the sidewalk to share an uplifting story, accompanied by his big smile and joyful outlook on life," said Deborah Taylor, Biola's Provost and Senior Vice President. "Periodically, he sent me notes of encouragement — either to share something exciting that happened for one of his students or simply to affirm my leadership and assure me of his prayers. I will deeply miss our impromptu conversations and his distinct way of radiating the joy of the Lord."
Harp worked with many Kingdom-oriented organizations, pushing forward the mission to integrate faith and business. He cared deeply for Biola students and was a champion for entrepreneurs. He was integral in the launch and facilitation of Biola's Startup Competition, advanced Crowell's partnership with Praxis Academy, and was known as a good listener whether you met him as an entrepreneur at one of Crowell's Fireside Chats or stopped by his office as a student or colleague.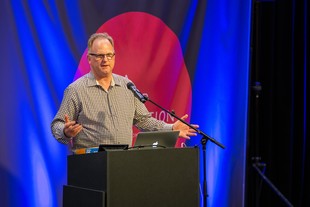 "Bob was a friendly, positive, gregarious man who always looked at the optimistic side of things," said Senior Associate Provost of Academic Affairs, Clark Campbell, Bob's supervisor. "He engaged faculty, students, administrators, and many community business people in ways that I have not seen others do. I will miss him and his energy, as well as his faithful ministry to others."
Harp joined the Crowell School of Business as Director of Strategic Initiatives in 2015. He later taught in Biola's Master of Management, Nonprofit Organizations degree program. Most recently, Harp led Biola's Office of Innovation — an office with the mission to foster Christ-honoring innovation and entrepreneurship worldwide. Harp would help young entrepreneurs take steps toward innovative and entrepreneurial success by offering financial, practical, social, and mentorship support.
Harp, an entrepreneur himself, founded GlobalHotelNetwork.com in 2000, a respected online media brand providing hotel investment insights, thought leadership and industry intelligence for leaders in the global travel and tourism industry. In July 2019, Harp took on the role of Catalyst for Lausanne Movement Workplace Ministry, a global network of leaders in the Faith @ Work Movement. Harp earned his CCIM (Certified Commercial Investment Member) commercial real estate designation in 1994. Harp spoke and wrote on innovation, entrepreneurship, leadership, nonprofits, social enterprises and the integration of faith and work.
"This is a difficult and thought-filled time for the Crowell School of Business, Biola University, and the many Kingdom-oriented organizations that Bob worked with as we reflect on the significant impact he made as a leader and teacher in our midst," said Gary Lindblad, Dean of the Crowell School of Business. "Bob cared deeply for Crowell School and Biola University students."
He holds a D.Min. in Workplace Theology, Ethics and Leadership from Gordon-Conwell Theological Seminary, a Th.M. from Dallas Theological Seminary, a master's degree in communications from Wheaton Graduate School and a bachelor's degree in economics from Wheaton College.
Biola will host an online Celebration of Life for Bob Harp on August 11 at 4 p.m. PDT. Read more details on Biola's event page. A scholarship fund has been created in Bob's honor. In lieu of flowers, please donate to the Innovation Scholarship Endowed Fund, visit connect.biola.edu/innovation.