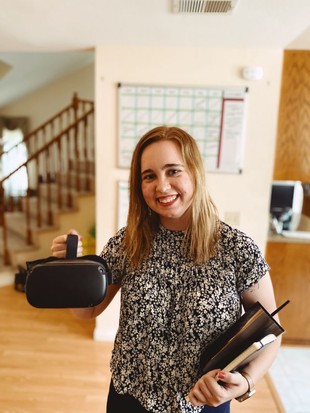 Biola University alumna Megan Scott ('20) graduated last spring and hit the ground running with a prestigious internship and a fellowship, each designed to advance her career as a virtual reality (VR) developer. As a Snyder School of Cinema and Media Arts student, she earned a fellowship with the Oculus Launch Pad scholarship program in 2018 and embarked on creating her own VR experience. In September, she received a second fellowship with Oculus Launch Pad, where she received support and mentorship while networking with other creatives. She is currently engaged in creating a VR prototype to be presented and potentially funded by Oculus.
Scott's current passion is for multiplayer narrative experiences, where friends navigate and interact through a story together.
"One of the biggest things I miss from film and pre-Covid times is being able to experience powerful points in a story together," Scott said. "Looking over at your friends as you all cry, or poking your buddy who makes stupid jokes as one is made on screen. I want to figure out how to bring that into VR. We are more empathetic when we experience together, so I want to make VR no longer 'this is what I experienced,' but 'this is what we experienced, together.'"
Scott became interested in animation and visual effects when she was a student, earning an internship with Botka Collective and learning 3D modeling from adjunct professor Eric Hann's Visual Effects class. Associate Dean of Cinema and Media Arts, Dr. Gerald Fisher, noticed Scott's emerging talent in his Sound Design class and suggested that she start a virtual reality (VR) lab on campus. She converted a room on campus into a workshop, giving demos and hosting open houses to all interested students. This cemented her interest in the medium. After taking a 3D design course with Luke Aleckson, professor of art, and a game design course using The Unreal Engine, a cutting-edge 3D creation platform with Cinema and Media Arts Professor of Game Design Michael Steffen, Scott could bring her ideas to life.
"I learned more about what it takes to make an experience and develop," Scott remembers. "His classes helped give me the tools to get started in game development and aided in my passion to learn what it meant to develop for VR."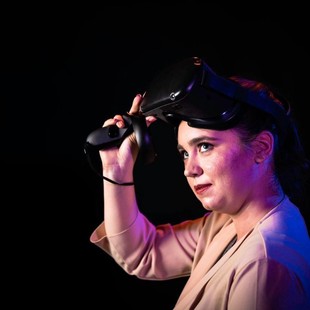 After that, Scott co-founded a student club with art major Marie Kalenski. Aleckson advised the club and helped give students access to the VR lab and equipment. By the time Scott graduated in May 2020, the club was established and had hosted a field trip to The VOID, a popular virtual reality experience hub, in Downtown Disney, which has since closed. For her senior project, Scott pulled together a team of 30 students, alumni and industry professionals to create Avion, an interactive VR experience.
During her senior year at Biola, Scott applied to the prestigious Television Academy Foundation internship program and was accepted in the Virtual and Augmented Reality category. Though the Foundation was unable to host interns due to the COVID-19 outbreak, the internship converted into a fellowship, which gave Scott access to weekly panels hosted by the Foundation and allowed her to continue developing her professional profile.
Reflecting on her experience as a Cinema & Media Arts major, Scott takes a thoughtful view.
"At first, I was skeptical how my film degree would carry into the game industry, but being able to tell a great story isn't limited to a single medium," said Scott. "There's so much creative power and potential in working in the AR/VR/MR industry – we've barely scratched the surface. It's a great world to drip your toes in, the water is great!"
Learn more about Biola's Snyder School of Cinema and Media Arts.
Written by Nate Bell. For more information, contact Jenna Loumagne, assistant director of strategic communications and media relations, at jenna.loumagne@biola.edu.