For as long as Biola has existed, it has been an institution with an outward focus, looking for ways to bless people around the world with biblically centered scholarship and service.
In its early years this took the form of free publications like The Fundamentals or The King's Business, or radio broadcasts like "The Biola Hour." It included global outreach with Biola's first satellite location, the Hunan Bible Institute in China, founded in 1916, as well as partnerships with Bible institutes in Korea. Later it included satellite programs in places like New York City, Kiev, Ukraine, and Chiang Mai, Thailand. With a history of strength in missions — Biola's Student Missionary Union is the largest student-led missions organization in the United States — Biola has always had a passion for equipping the saints and spreading the gospel "to the ends of the earth." As new technologies arise and Biola's international reputation grows, opportunities for impact in this area have only increased.
As part of The Campaign for Biola University, funds are needed to take Biola's global outreach efforts to the next level. In this article, explore some of the current progress and plans in Biola's aspiration to extend its educational reach throughout the world.
Open Biola
One of the most significant recent methods for extending Biola's global reach has been Open Biola, an online repository of free educational content curated and created by Biola University.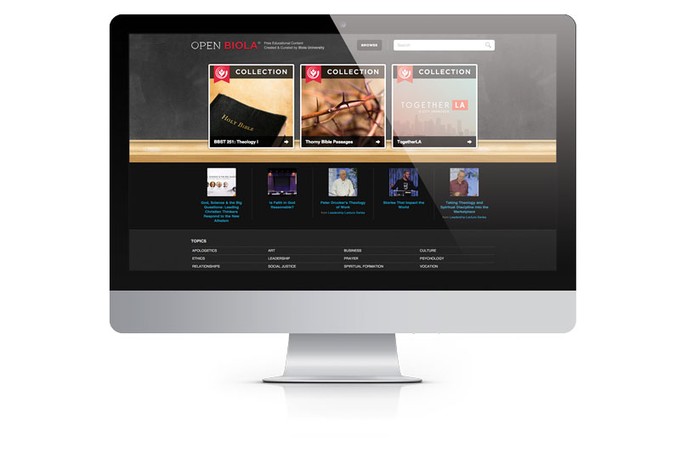 Launched in August 2012, Open Biola (open.biola.edu) has resourced more than 230,000 individuals in 205 countries with biblically centered content during its first three years. Featuring more than 180 "collections" of materials — everything from class lectures to chapel talks and conference sessions — and more than 1,600 hours of video content, Open Biola has been a groundbreaking example of an institution of higher education making significant academic resources freely and easily accessible to anyone in the world with Internet access.
In coming years, plans for Open Biola "2.0" include revamping portions of the site to work in tandem with distance learning certificate and degree programs, organizing and packaging the wealth of resources on the site for more formal educational programs.
Top 10 most viewed resources on Open Biola:
Live Streams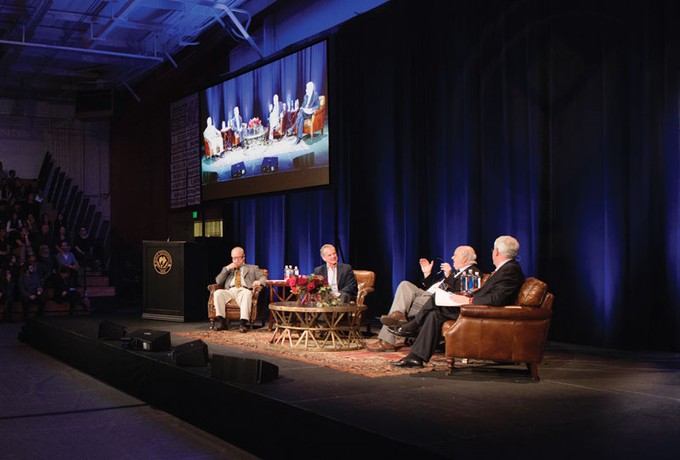 Biola University is blessed to have the venues and resources to host incredible campus events. Whether debates, lectures, panel discussions or conferences, Biola's events have provided stimulating resources for locals who come to campus to attend.
But what about those who live too far to attend in person?
Thanks to a savvy video team and cutting-edge live-stream technology, Biola has in recent years begun to broadcast many of its signature events live online, free and accessible to anyone in the world. Whether a commencement ceremony that a graduate's grandparent can watch from an iPad in Australia, or a Missions Conference session viewed by a missionary in Thailand, live-streamed events are a key part of Biola's aspiration to extend its reach globally and provide biblically centered resources to anyone with Internet access.
Watch live events at live.biola.edu/upcoming.
Online Devotional Projects
For the past two years during the Christian seasons of Advent and Lent, the Biola University Center for Christianity, Culture and the Arts has produced online, multimedia devotional experiences for anyone in the world to enjoy. Featuring reflections written by Biola faculty and staff, as well as paintings, music, videos, poetry and prayer, the Advent Project and Lent Project have had a huge reach, providing people across the world with free daily resources that showcase beauty and point them to Christ.
Global Partnerships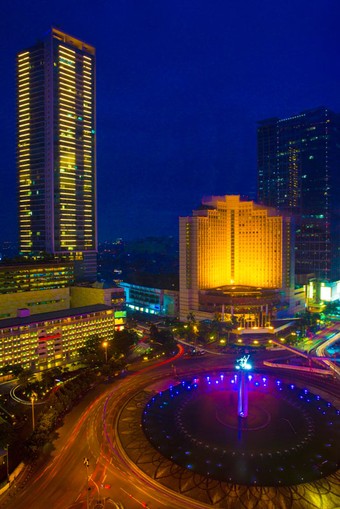 Part of the aspiration to extend Biola's reach includes innovation in the area of global partnerships and international initiatives. Beyond providing free content through Open Biola and other online avenues, Biola wants to create educational experiences for people throughout the world who don't have access to biblically centered teaching and training.
Rather than setting up satellite locations around the world, Biola's approach is to develop relationships with indigenous organizations that are already servicing a given region. Initiatives in this area recently have included School of Education outreach in Burundi, Cambodia and Lebanon; apologetics conferences in partnership with Christian organizations in places like London and Vancouver; and journalism department trips to teach visual journalism in Haiti.
Another developing partnership is between Biola and Pelita Harapan University (UPH) in Indonesia. This summer, 12 students from Biola will travel to Indonesia to work in clinical and laboratory environments in partnership with UPH and Siloam Hospital. Later in 2015, Biola and UPH will co-sponsor "The Christian Response to Global Health Issues," a conference in Jakarta, being planned in part by Doug Pennoyer, Biola's special assistant to the provost for international partnerships. In addition to these developing educational partnerships, Biola has also begun an Asia recruitment initiative, hiring four Biola alumni who live in Hong Kong, Korea and Indonesia to serve as local liaisons for international recruitment.
Online Courses and Programs
Biola has made significant progress in online education and distance learning in recent years. Over 200 courses at Biola are now offered fully online, and many more have been developed in a "hybrid" format blending online and traditional formats. The School of Education has been a leader in this area, offering 12 certificate, credential or master's programs that can be completed either partially or completely online.
Within Talbot School of Theology, the Institute for Spiritual Formation has undergone an extensive process of preparing its courses to be accessible to students far beyond Biola's campus borders. Talbot has also launched a series of hybrid courses in partnership with local churches in places like Thousand Oaks and Irvine.
Other online and hybrid programs include the M.A. in TESOL within Cook School of Intercultural Studies, the applied psychology online bachelor's program within Rosemead School of Psychology, and the popular M.A. in Christian apologetics program, which has seen dramatic enrollment growth since 2010 and features online classes plus two-week summer residencies on Biola's campus.
10,000 Students by 2022?
By 2022, Biola hopes to grow to 10,000 students, represented by 4,800 "traditional residential" students and 5,200 nontraditional online or hybrid students, mostly in graduate programs. This ambitious goal will only be achieved through major advancements in the university's technological infrastructure as well as improvements in instructional design and training for how to use emerging technologies and conduct online classes.
The university's ambitious goal for growth in the distance learning area is missionally motivated but also practical. Demographic trends show that the "traditional" Biola student (18- to 22-year-old suburban evangelicals) is a shrinking market. Meanwhile, growth markets (global students and 35-and-up adult learners) are those that are looking for the flexibility and convenience of no- or low-residency degree programs.
"[Biola] is landlocked and can't keep packing students in on campus," said Aaron Kleist, associate provost for academic innovation. "Our future depends on diversifying both our products and our market."
If Biola is to thrive in the changing landscape of Christian higher education, it must focus on doing online education well without sacrificing its core convictions and mission of preparing students in mind and character to impact the world for the Lord Jesus Christ.