Talbot School of Theology has a long and rich partnership with Korean and Korean American students over its 70-year history. With the rapid spread of Korean churches in America, Southern California has been a key location for this growth. As a result, Talbot School of Theology has trained and sent a multitude of pastors into these congregations. Dr. Dennis Dirks, former dean of Talbot, once said, "Talbot has been sustained in part by these many Korean students." This continues to be true today.
Here, we introduce you to just a few of the Korean alumni who have graduated from Talbot over the years — representing churches in a wide range of contexts, locations, sizes and ethnic makeups. Together, they represent just a fraction of the Korean alumni whom the Lord is using to minister to his church around the world. We hope that you will be blessed as you hear their story and how God used Talbot School of Theology as part of their journey in life and ministry.
---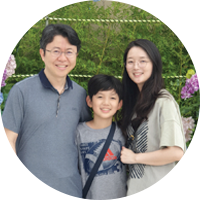 1st Generation Church in Korea
Rev. Davi D Hwang
(M.Div. '10)
My role: Senior Pastor of Sajungang Church (Anyang, Kyonggi-do, South Korea), sja.or.kr, where I have served for 10 years.
My family: Wife, You-Jin Park (a Biola alumna), and daughter, Ha-Seung.
What I valued most from Talbot: I have admired and appreciated the godly lives of professors and want to resemble them. I am also thankful how every lecture was based on God's Word. This was truly helpful. I also had the privilege of starting and serving in the Talbot Korean Student Association.
Advice to future pastors: My encouragement to future pastors is three-fold. One, God knows all of your lives. Two, God guides and blesses you. And finally, God will be glorified by your life.
---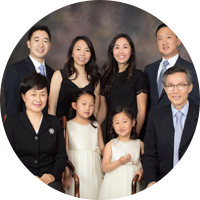 1st Generation Immigrant Church in America
REV. CHOON-MIN JOSHUA KANG
(Th.M. '93)
My role: Founding/Senior Pastor of New Life Vision Church (Los Angeles, CA), nlvc.org/, where I have served for 12 years.
My family: Wife, Heejong Grace Kang, and daughters, Rebekah Kang and Esther Suh. Rebekah and Esther are married with two children each.
What I valued most from Talbot: I learned the importance of the inerrancy of the Bible, which says that the Bible is without error or fault. I learned the unity in the Bible, which connects the Old and the New Testament to proclaim the drama of Christ's redemption. I remember and deeply appreciated personal care by the professors at Talbot for the international students. Even though I was not good at English in the beginning, the professors cared for me with a sincere heart.
Advice to future pastors: I would encourage them to remember the principle of seeds. The principle of the Kingdom of God is contained in mustard seeds. It is important to be faithful in the small things by looking at the great potential hidden in the small seeds. I also want to encourage pastors to be patient like a farmer cultivating crops with patience and waiting.
---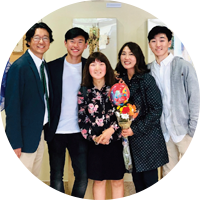 REV. TAE KIM
(M.Div. '97)
My role: Senior Pastor of All Nations Church (ANC Onnuri, Lake View Terrace, CA), anconnuri.com, where I have served for 6 years.
My family: Wife, Diane Kim (B.S. in Nursing, '96), and children, Jeremy, Timmy and Hope
What I valued most from Talbot: I have to say meeting my wife in the old library was the highlight of my Talbot years. My Talbot friend dropped his wallet and her nursing friend picked it up, and we got together during finals week. Other fond memories are playing ping pong, connecting with students who come from different backgrounds than myself and spending quiet times at Rose of Sharon Prayer Chapel.
Advice to future pastors: Don't take yourself seriously but take the gospel seriously. Don't make ministry your idol but instead, find joy and contentment in your identity as a child of God. Signs that the gospel is working in your life are joy, humility, gratitude and freedom! Always be willing to repent and believe when these things are missing.
---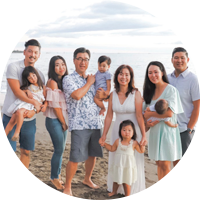 REV. SAM PANG
(M.Div. '95)
My role: Senior Pastor of Cerritos Mission Church (Cerritos, CA), cmchome.org, where I have served for 10 years.
My family: Wife, Chris Pang, and children, Natalie Sung, Irene Lee and Jeremy Pang. Natalie and Irene are married with two children each.
What I valued most from Talbot: I appreciated the Bible-centered teaching, godly professors and spiritual environment. Many of my friends who have gone to other seminaries confessed that their faith was challenged during their seminary days. They envy me when I tell them, my seminary days are the most spiritually impactful times of my life and that I have learned and grown the most!
Advice to future pastors: Work on your being through spiritual formation and deep-level intimacy with God. This part should never be compromised by busying yourself with doing of your ministry. Doing always should flow out of Being.
---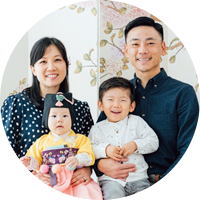 2nd Generation English Ministry in a Korean Church
REV. MICHAEL LEE
(M.Div. '11)
My role: Lead English Pastor of All Nations Community Church (Lake View Terrace, CA), allnationsla.org, where I have served for 8 years.
My family: Wife, Alice Lee, and children, Seth and Brooke.
What I valued most from Talbot: One of the most significant lessons I learned at Talbot was to remember that my calling is not only to preach the Word of God but to be shaped by the Word of God. I still remember the exegesis professor passionately exhorting us to strive to be mastered by God's Word rather than trying to master it. It was such a blessing for me to see this faithfully modeled by the faculty at Talbot and to see this value reinforced throughout all of my classes.
Advice to future pastors: My encouragement to current seminary students would be to cherish and participate in the community life at Talbot. While it is good and necessary for us to acquire ministry skills in seminary, I believe it is even better and richer for us to experience friendship and mentoring from the community there. This treasure will last a lifetime and is available to you if you are willing to pursue it. If possible, I would encourage students to take as many classes on campus for this purpose.
---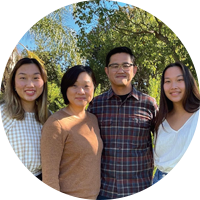 2nd Generation Independent Church
REV. DAVID KIM
(M.Div. '00)
My role: Senior Pastor of Grace Redeemer Church (Cerritos, CA), grc.church, where I have served for 6 years.
My family: Wife, Ruth Kim, and daughters, Natalie and Katie.
What I valued most from Talbot: My first seminary class, Hermeneutics with Dr. Walt Russell, rocked my world. As we learned the art of interpretation, I fell in love with God's Word. The skills I learned from this first class compel me to look at God's Word not through my own eyes but through the lens of the original author and context. Through the help of the Holy Spirit, I arrive at the intended interpretation point and the wisdom of Scripture transforms lives! Throughout my 25 years of church ministry, the Hermeneutics class equipped me to better understand and teach God's amazing Word.
Advice to future pastors: During seminary years, it's tough to manage finances, family, ministry, education, and for many, another job outside of the church. But, our time in seminary is such a brief time in our lives. My encouragement is to not worry. The Lord brought you to Talbot with purpose and calling. The Lord will use all that you have learned to bring glory to his church.
---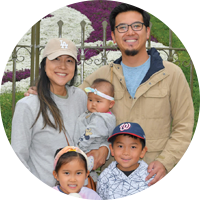 REV. THOMAS HWANG
(M.Div. '13)
My role: Lead Pastor of Grace Hill Church (Buena Park, CA), gracehillchurch.online, where I have served as lead pastor for 2 years (since a re-plant) and 12 years as an associate (before the replant).
My family: Wife, Lynna Hwang, and children, Judah, Emma and Isabella
What I valued most from Talbot: I always felt that seminary is where a pastor learns the fundamentals of church ministry. Learning Greek/Hebrew, hermeneutics and theology felt like the equivalent to a doctor learning biology and chemistry or a basketball player learning how to dribble. Like most of life, the fundamentals are foundational to everything you do and Talbot did a great job providing me with the fundamentals.
Advice to future pastors: My encouragement to pastors and seminarians is to not be discouraged by the present moment but to keep fighting the good fight. While our context is burdensome (e.g. COVID-19, Ukraine, etc.) and many in our congregation seem weary, there has perhaps never been a greater need and opportunity for God's church to shine forth. Spiritual revival always arises not from a context of comfort but suffering and heartache. People are hurting and fearful, but they need churches to reflect the heart of God and draw near to the poor and broken-hearted.
---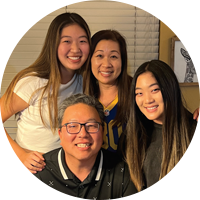 REV. STEVE CHOI
(M.Div. '98)
My role: Founding and Lead Pastor of Crossway Community Church (Garden Grove, CA), crossway-church.com, where I have served for 15 years.
My family: Wife, Sharon Choi, and daughters, Carissa and Ashley
What I valued most from Talbot: The first lesson I learned is the discipline of studying. Preparing messages is like having a final paper due every Sunday. I enjoyed the process just as much as the finished work. Secondly, the relationships with peers and professors. Ministry and leadership can be lonely. These friendships have been invaluable to longevity.
Advice to future pastors: Character is always better than talent. You will teach with your life way more than witty phrases or charisma. Fiercely love your family more than your ministry. One way to do this is with your time. The gospel is powerful. Don't fall to the temptation of falling for the latest trends to impress your people. Let the gospel be impressed upon their hearts through your teaching.
---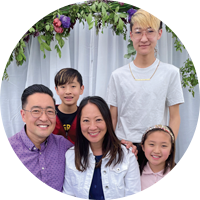 Korean Americans in Multi-Ethnic Megachurches
REV. RYAN KWON
(M.Div. '97, Th.M. '98)
My role: Founding and Lead Pastor of Resonate Movement (Fremont, CA), resonatemovement.org, where I have served for 11 years.
My family: Wife, Jenni Kwon, and children, Caden, Brennan and Ella
What I valued most from Talbot: By far the most valuable lesson I've learned from Talbot was the supremacy of God's Word. Talbot's commitment to teach students how to teach Scripture still plays a vital role in the life of my ministry. In my experience, ministry leadership and philosophy will come and go, but what remains central to the work of the gospel in my context has been the commitment to teaching and preaching of God's Word. I'm indebted to Talbot and all of the brilliant and humble professors I've had the privilege to sit under and learn from.
Advice to future pastors: While being a student of Talbot, commit to being a vibrant member of a local church. There are many things seminary can teach you, but there are only things that can be experienced in the local body of Christ. So don't be just a student of God's Word; be a disciple of Jesus, and a family member of his bride. Submit to the leadership, offer your service and grow in relationships. If the Lord wills, you'll have the joy of doing those very things the rest of your earthly life.
---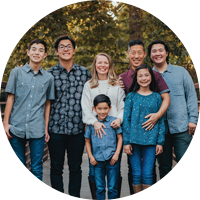 REV. MARK LEE
(M.Div. '05)
My role: Founding and Lead Pastor of VantagePoint Church (Eastvale, CA), vantagepointchurch.org, where I have served for 14 years.
My family: Wife, Andrea Lee, and children, Nathan, Hayden, Caleb, Naomi and Judah
What I valued most from Talbot: My time at Talbot was filled with some of the best instruction I've ever received. I learned the original languages, learned how to exegete the Gospels, learned the many different ways to interpret Revelation. However, no day at Talbot was as memorable as 10 of us men in class with the Chaplain Mick Boersma. He looked at us and said, "I don't envy you. You are all making the least amount of money while carrying a brand new mortgage trying to prove yourself as the young guy on staff while taking care of young kids at home." He didn't give us advice. Didn't tell us what to do. He just entered into our pain and understood us. It was then that I learned that sometimes there's a greater power in listening than talking.
Advice to future pastors: When I was in my 20s, I had many friends that were called to ministry. In my 30s there were others that I highly admired in ministry as heroes that I wanted to be just like. Now that I'm turning 50, I look around and see that almost none of them are still standing and because of that my definition of success in ministry has now drastically changed. One day when I stand before Christ, he won't ask me what my budget is or how big my budget is, but will ask if I've faithfully finished my race and my calling. I've realized that to survive ministry is to thrive.