Fifty years ago, Christian revival sparked during the Jesus People Movement. Aiming to fuel the flame of the same type of revival, Biola University hosted the first-ever Ablaze Conference from October 7–9, 2021 — featuring plenary speakers, workshops, worship and a special reunion concert from musical artists from the Jesus People Movement.
During the Jesus People Movement of the 1960s, the Holy Spirit provoked a spiritual awakening all across Southern California. Arising from the counterculture of the late 1960s, a resurgence of evangelical Christianity became known as the Jesus People Movement, or just the Jesus Movement, which heavily influenced churches and the Christian music industry.
"Can the Holy Spirit do this again? Yes! Some may be skeptical at this answer, but I propose you consider looking to the past for inspiration and into the future with aspiration," said Oscar Merlo, director of Biola's Center for the Study of the Work and Ministry of the Holy Spirit Today, which hosted the conference in partnership with the Wheaton College Billy Graham Center.
"Our Savior can do it again, regardless of our race or background, in the contexts of universities, in students, in our churches and in our lives and to compel us to pursue a fresh outpouring of the Holy Spirit."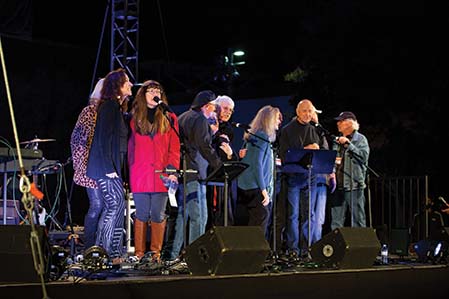 In connection with the event, the Biola and Wheaton centers also launched the Jesus People Movement Oral History project, featuring interviews with people who were directly impacted by the Jesus People Movement. Beginning October 7 at the Ablaze Conference, the project launched its first four exhibitions: Evangelism, Jesus Music, the Ministry of the Holy Spirit, and Social Protest.
Speakers at the conference included Matt Chandler, Greg Laurie, Ed Stetzer, Glenn Packiam, Kenneth Ulmer and more. Evan Craft, Voz Church and Myesha Chaney led worship at the conference.
"We are living in similar conditions as it was when I was a kid," said Cheryl Brodersen, the daughter of Calvary Chapel founder Chuck Smith, a key figure in the Jesus People Movement. "The Holy Spirit then sparked a revival 50 years ago in the Jesus People Movement — and God can set us ablaze again!"
Part of the conference was the Jesus People Concert, featuring musical artists Love Song, The Salt Company, Matthew Ward and Nelly Greisen of the Second Chapter of Acts, Nancy Honeytree and Dennis Agajanian. Nelly Greisen and Mathew Ward of the Second Chapter of Acts sang together for the first time in 22 years. The Jesus People Concert filled the air on Biola's Metzger Lawn with the sounds of the same Christian music that sparked a revival 50 years ago — a once-in-a-lifetime experience.
"The worship music we take for granted today was born from this period where musicians felt an abiding sense of calling to use music to reach the lost," Merlo said. "As we reflect on this legacy, it is critical to recognize the power of institutional and structural influence for culture change. As writers such as Andy Crouch have argued, we must continue to send people into public and private spheres as agents of gospel transformation."