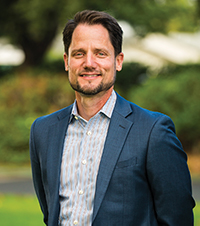 Darian Lockett, associate professor of New Testament, has been teaching undergraduates in Talbot's Biblical and Theological Studies Department since 2007. Darian's desire is to display godly wisdom in teaching, writing and service, and to serve the church of Jesus Christ by equipping individuals for life and ministry. He has authored several books, as well as chapters on James and Jude in various edited volumes, and has contributed articles to Tyndale Bulletin and Neotestamentica. Most recently, Darian was awarded with Biola's Provost Award for Excellence in Scholarship.
Q: Darian, you have an impressive CV with extensive activity in both the church and the academy. Can you describe your teaching philosophy here at Biola?
In all my teaching, both in the university classroom and in the pulpit, my goal is to model the connection between the church and the academy. I think the formative aspect of discipleship (paideia) appears in the classroom when a teacher demonstrates her own disposition (character) and sensibilities (phronesis) trained by Scripture and Christian tradition. The informative aspect of higher education (Wissenschaft) is put on display when the teacher pursues an active scholarly life outside the classroom, yet is careful to share the goods of that life with students. In this way, heart and mind are both engaged. All this is aspirational for me. I hope to demonstrate a love for God's Word and a disposition of humility and obedience to the Father while at the same time pursuing rigorous scholarship that informs my classroom teaching.
Q: Biola's provost recently honored you with the award for "Excellence in Scholarship." Indeed, your accomplishments in the academy are inspiring. What are your primary research interests?
I have two primary areas of research. First is the Catholic Epistles. I've written on James and Jude individually and have thought quite a bit about how James, 1–2 Peter, 1–3 John, and Jude form a particular collection of early Christian writings traditionally called the Catholic Epistles. This leads to my second area of research: the significance of canon in biblical theology. A few years ago, Mickey Klink and I wrote a short primer assessing different types of biblical theology, one of which is a canonical approach to the subject. In brief, the canon is a kind of second (yet authoritative) contextualization for the texts of the New Testament. A canonical approach thinks through the hermeneutical and theological implications of a collection of New Testament texts. For example, though James did not foresee that his letter would eventually be placed next to 1 Peter in the NT canon, the meaning of James is influenced by its near canonical neighbor.
Q: I think it is also significant that you prioritize the Catholic Epistles in your study. How do you think the Church would benefit from doing the same?
I think the Catholic Epistles give us a unique window into early Christian theology and practice. These letters highlight the centrality of love for not only fellow believers (1 Peter and 1 John), but the neighbor in general (James). They explore the inevitability of trials and testing in life that are ultimately from God and therefore strengthen faith (James and 1 Peter). Throughout these letters one finds the pervasive contrast between allegiances to God and this "world" as incompatible (James and 1 John) along with an emphasis upon the reality that true faith is always accompanied by a transformed life; faith is united with "works" (especially James 2:14–26). Finally, the concern for correct doctrine both in the face of false teaching (2 Peter and 1 John) and the influence of immoral living (Jude) surfaces again and again.

Q: Even though you are deeply immersed in scholarship, you are just as invested in your local church ministry. Can you tell us what that looks like for you?
I've been a member of Trinity Presbyterian Church since we moved to California in 2007 and served as an assistant pastor from 2010 to 2014, and then as a ruling elder from 2014 to 2019. Primarily I have served the church through teaching classes, preaching, assisting in the leadership of the church, and from time to time playing my banjo in the worship team. The vocation of a professor overlaps significantly with the calling to minister in the local church, for me, especially in teaching and preaching.