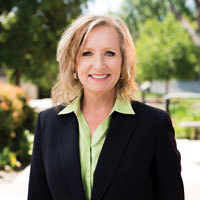 Helen Mitchell (M.A. '09, M.A. '15) was on the fast track after college when she started working at AT&T. At age 30, she became a vice president at Lucent Technologies, an AT&T spinoff. By age 35, she was running a half-billion-dollar business.
Mitchell's quick climb in the corporate world didn't prepare her for the sudden stop on Nov. 20, 2003, when she was laid off and forced to ponder what she would do next. What followed was what she describes as a time in the wilderness.
When she lost her job, her late husband was a stay-at-home father, and her daughters were only 4 years and 6 months old. That year, God reshaped her heart and her character when she realized the relational dysfunction in her family of origin, unhealthy habits and her drive for success and ambition to satisfy her own sense of identity and calling, she said. Through a series of divine circumstances, she found herself emerging from this wilderness journey as a trailblazer in the area of faith and work.
"My vision is to change the world for Jesus through believers in the marketplace," Mitchell said. "It's going to require the integration of business, academia and the local church in order to do that."
Today, Mitchell is the director of Talbot School of Theology's Center for Faith, Work and Economics, and recently became an assistant professor of leadership and ethics at Biola's Crowell School of Business. Before this, Mitchell was a licensed minister at Saddleback Church, where she was the architect and visionary behind the Saddleback@Work ministry, now called Saddleback Works, a workplace ministry to equip Christ-followers in integrating their faith in the workplace. Mitchell now teaches undergraduate and graduate courses in organizational ethics and leadership.
"I love to be with the students and empowering the next generation in high-impact leaders," Mitchell said. "To me, the leadership formula is informing the mind of the leader while shaping the heart of the leader."
Mitchell is a highly active speaker, author and consultant to business leaders and pastors. Just last year, she produced a curriculum available on RightNow Media with Scott B. Rae, professor of Christian ethics and faculty dean, called "Faith, Work, Calling and Vocation," and another on "Faith, Work, Calling and Women." She received a master's in organizational leadership from Biola in 2009 and her master's in biblical and theological studies from Talbot in 2015.
"Talbot is more than just equipping the pastor to be a good theologian but [Talbot] is equipping the pastor to be a source of practical guidance and wisdom and a leader — a cultural leader — so that those people in the marketplace who have authority can make an impact for Jesus Christ in whatever vocation they are called to with the very essence of the work they do," Mitchell said.