The Charles L. Feinberg Center for Messianic Jewish Studies is celebrating 10 years of training Jewish and Gentile believers for Jewish ministry. The Feinberg Center, named in honor of Charles L. Feinberg, Talbot School of Theology's first academic dean, is a Talbot extension in partnership with Chosen People Ministries in Brooklyn, N.Y.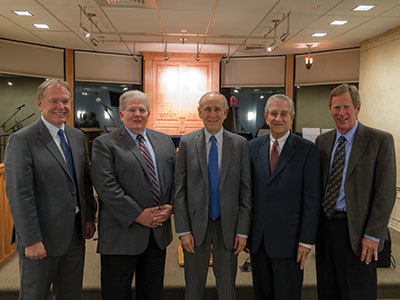 The Feinberg Center hosted a celebration on Nov. 10, 2017, where Talbot Dean Clinton E. Arnold expressed his appreciation for the school's ongoing work. After uplifting testimonies by students, both past and present, Mitch Glaser, president of Chosen People Ministries, recollected how the Lord provided vision, enthusiasm and accreditation for this strategic Master of Divinity program in Messianic Jewish Studies.
Gregory Hagg, Feinberg's program director, served as the event's emcee and spoke about God's faithfulness in opening doors, drawing students and providentially providing for the seminary. He also mentioned the program's unique goals and the diversity of its 18 graduates since it began.
Scott Rae, dean of the Talbot faculty and professor of Christian ethics, delivered a timely message titled "Bringing Old Testament Ethics into the 21st Century." This was followed by a pointed challenge to students and faculty from Dean Arnold to continue the ministry of training men and women to share the good news with God's ancient chosen people.
Former Talbot dean, Dennis Dirks, also a ended the event, and was indispensable as an academic architect when he spearheaded the program's development through Talbot and Chosen People Ministries in its inception.
The evening event began and ended with spirited Messianic worship in praise to Yeshua Ha Mashiach, Jesus the Messiah, followed by an extended time of food and fellowship.