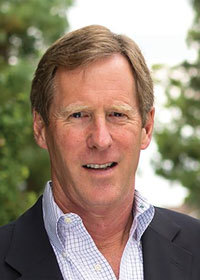 Scott Rae, professor of Christian ethics and Talbot's dean of faculty, was recently appointed at Biola University as the senior advisor to the president for university mission, devoting half his time in this new role. Rae has served at Biola for nearly 30 years, teaching Bible exposition, biblical studies and Christian ethics. His primary interests in medical and business ethics and how to apply Christian ethics to medicine and the marketplace has led him to speak and advise people on a wide array of ethical issues. He is a sought-after speaker because of his ability to integrate a deeply rooted biblical faith with the disciplines.
Q: What are some highlights of your teaching career so far?
A couple of things come to mind. One is seeing the tangible help that students get from some of the "Church and Society" [Talbot course] topics (e.g. end of life, infertility). It has been very gratifying to help folks that will be the next generation of pastors.
The other part has been just how well the philosophy pro- gram has done over the years. We're getting close to 200 students who have been admitted into doctoral programs. Close to 70–75 of our graduates have positions in state universities (non-Christian settings). The numbers are well beyond that if you include Christian settings.
Q: In recent years, you have received two significant promotions, positioning you to have a tremendous influence over Talbot and Biola. In 2014, you were appointed as Talbot's dean of the faculty. Can you help us understand some of the primary functions of this office?
It's primarily faculty recruitment, hiring, development and promotion. There is a big category there for other responsibilities as the dean sees fit. Clint and I have worked really closely together over the last five years.
Another part that has been fun is being the champion for online programs. I get to be the "experimenter-in-chief" for new online and classroom technology.
The other thing that I have been charged with is fostering and growing the kind of community that we have at Talbot. It's a culture of humility — we don't take ourselves too seriously and have little tolerance for prima donnas and narcissists. We've worked really hard to foster that kind of environment.
Q: Additionally, in January of this year, you were appointed a new honor by President Barry H. Corey — "Senior Advisor to the President for University Mission." Can you tell us a little bit about what this role entails and how you help the university uphold our mission?
We are facing unprecedented cultural pressure to compromise on our biblical and theological convictions. Because of these pressures and given the culture today, it's a lot more challenging to stay institutionally faithful, so Dr. Corey was challenged to really devote him- self much more intentionally in the second decade of his presidency to maintain mission faithfulness, and he has enlisted my help. I'm delighted to serve. I'm encouraged overall with where the university is headed and our ability to withstand these challenges.
Q: With such a busy schedule, are you able to keep up with research and writing?
A fourth edition of Moral Choices will be out in September or October. I have a few other projects — smaller chapters in books. But yes, writing and teaching have taken a big hit. I'm not able to travel and speak and have had to say "no" to all those things. I don't take anything without consulting the president.
Q: Outside of university life, you are richly blessed by your family. Tell us a little bit about these inspirational people in your life.
I support my wife in her work. She is with Open Doors and has a great heart for believers around the world whose lives are in danger because of the faith. Whenever I think, "my life is so complicated," I think about the people she works with. I feel grateful that I can walk into my church without fear of being shot.
And all three of our kids are artists in one form or another so just supporting them and following their stuff has brought great joy. The oldest, Taylor, produces commercials. Our middle son, Cameron, is an audio engineer for a recording studio, and our youngest, Austin, just graduated from college on the East Coast and will be pursuing acting and theater in L.A. Following all of their stuff has been tons of fun.