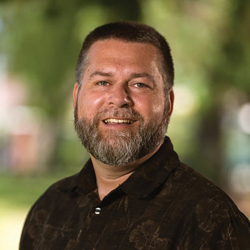 Michael Thigpen, one of Talbot's newest faculty members, not only transplanted himself from Kentucky to California, but he has also brought the main office for the Evangelical Theological Society (ETS) as he maintains his role as its executive director. Prior to joining Talbot in 2016, Thigpen taught at The Southern Baptist Theological Seminary and Cedarville University, and while in his current role, continues to teach at Munster Bible College in Cork, Ireland. Thigpen enjoys teaching and writing on a wide variety of topics in the Old Testament, with special interest in the areas of prophetic literature, God's motives and the theology of work and economics.
Q: Mike, since you started teaching here in the fall of 2016, you've been in a unique position with two roles: one as associate professor of Old Testament and Semitics, and another as the executive director of ETS. What interested you in joining Talbot's faculty?
A sense of balance. ETS — with the exception of the expectation that I write and speak — is almost all administrative. I had a growing sense that there were things I needed to write and teach, and thus, I needed to flip the balance. I was drawn by the depth of relationships, and found the collegiality of this group to be unique. In large part, it was the community that I wanted to come join. I haven't found any place like this.
Q: What is your favorite thing about teaching?
I love making connections for students. In my own work, and when I teach in the pulpit, I like to make the knots in the web that brings things together, and I love to see that light come on for students when they make connections across texts in theological ways.
Q: What are some of the most interesting aspects to your role as the executive director of ETS?
It gives me a very unique view on evangelicalism in that we have a lot of different theological positions and ecclesiological associations represented within ETS. Part of my job is to help people have good conversations, to help different groups within evangelicalism to talk well together and then, hopefully together, to advance our understanding of Scripture, of theology and the issues that we are all struggling with in today's society.
Q: What areas do you enjoy researching?
Almost all of my research now is in human flourishing. I'm mostly looking at Genesis 1 and 2, and tracing out those themes related to the way we've been created and what it means to flourish in a holistic fashion — place of work, community engagement, the role of the church. I also spend a little bit of time researching and writing on Old Testament ethics.
Q: You didn't come to Talbot alone but brought three special people, too. Can you tell us about your family, and what each of them are doing here at Biola?
My wife, Bonnie, and I will have been married 28 years this summer. It's such a delight because we have not only been married for a long time, but we get to work together. She organizes the ETS conference, and I love ministering to the Society with her. It means she is on campus too, since the ETS office is here. My daughter, Abigail, is my oldest and is in her first year of Talbot's Master of Arts in Philosophy program. My youngest, Hannah, is a sophomore at Biola's Conservatory of Music. It's a fun season for all of us to be on campus together.
Q: What types of activities do you enjoy doing when not teaching, researching or leading a large theological society?
I love to play with my puppy. Bonnie and I love to garden so we're slowly figuring out what and how things grow in California. And I am a reader. So although it is what I do professionally, it is also what I do just for fun — whether it is fiction or nonfiction, most of the time, I have a book in hand.