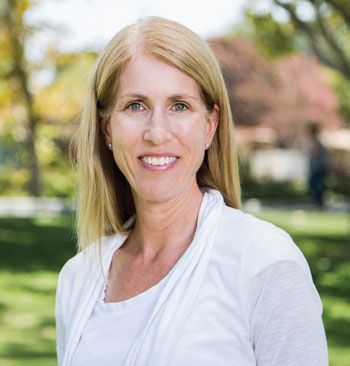 After teaching theology and church history at Wheaton College for nearly 20 years, Karin Stetina began teaching in the undergraduate department here at Biola in 2015. Stetina holds degrees from Westmont College (B.A.), Wheaton College (M.A. in Theology) and Marquette University (Ph.D. in Historical Theology).
Q: Karin, what first interested you in becoming a theologian?
I had the opportunity to take theology classes as an undergraduate, and grew so much in my understanding of my faith. My senior year, I took a Reformation theology and an American Christianity class, and I found myself inspired by John Wesley and his Holiness Club. I remember coming back from class and trying to get my roommates to start our own Holiness Club and consider being missionaries. After we graduated, one of my roommates went to Russia to be a missionary, and I stayed at Westmont College to teach psychology lab classes. In my free time, however, I found myself reading theology. After a lot of prayer and contemplation, I decided to study theology in graduate school. It's a bit ironic, however, that I ended up studying John Calvin and Jonathan Edwards, not John Wesley.
Q: What areas of theology do you specialize in?
Historical theology — particularly Reformation theology. More specifically, my focus has been on John Calvin, Martin Luther and Jonathan Edwards.
Q: Can you tell us about a piece of research that was particularly meaningful to you?
After teaching theology to ESL teachers involved in the ELIC (English Language Institute in China) program at Wheaton College for many years, I had the opportunity to write a chapter in a book for Christian ESL teachers on how to teach students to read theology with discernment. My hope is that this will help students and teachers alike to be able to biblically engage at a deeper level with theologians.
Q: What is your favorite thing about teaching?
Getting to know the students and faculty! I love walking alongside the students at Biola and seeing how God is working in their lives. In particular, I enjoy seeing students grow in their understanding of the biblical basis of their faith and become more confident in articulating it.
Q: How do you help your students integrate theology into their life of discipleship?
One of my goals for the students is to gain a deeper appreciation of the vital importance of God's Word in their daily lives. As Scripture says, it is "alive and active" (Heb. 4:12) and has the power to keep us from sin (Ps. 119:11). In class, I work with the students to memorize Scripture, so it is hid deep in our hearts. My hope is that if they only remember one thing from my class, that it may be God's Word.
Q: Can you tell us a little bit about your family?
I met my husband AJ working with the high school youth group at a church in the Chicago area. We've been married 20 years. We have four children, Caroline (16), Ellie (13), Cole (11) and Alex (8).
Q: How has the adjustment from living in Illinois to moving to California been for your family?
My kids think they miss the snow, but AJ and I are happy to no longer need shovels and winter coats. We are really enjoying living close to my brother's family and my parents, who both reside in Santa Clarita. It was a big decision to pick up and move from the Chicago area, having both grown up there and having our kids very established in their schools and at church. But, having family close has made the transition much easier. We also love the active lifestyle in California and how welcoming the Biola community has been. My kids have adjusted better than AJ and I have, and their favorite thing to do is spend time on Biola's campus.
Q: What types of activities do you enjoy doing when you're not teaching or researching?
Sleeping. Just kidding (though my kids will confirm that I do go to bed early). I love spending time with kids, especially mine, so most of my activities revolve around them, including volunteering at Awana and at their schools. My kids are very adventurous, and we enjoy hiking, running, swimming and biking together. We also love the beach. We have probably been to at least a dozen different beach- es since we've moved.