For informative resources on immigration and how to process this sensitive subject from a biblical perspective, read the article from Biola Magazine's Summer 2017 issue: Borders and the Bible: How can Scriptural Wisdom Inform Ongoing Debates over Immigration, and an article written by Biola University Talbot School of Theology professor, Dr. Octavio Esqueda: What's Your Immigration Status? Divine, published in Christianity Today.
On Friday, September 8, the Biola Hour had Pastor Josh Smith from Mountainside Communion in Monrovia speaking on immigration. Watch it on Biola's YouTube.
---
Additional Resources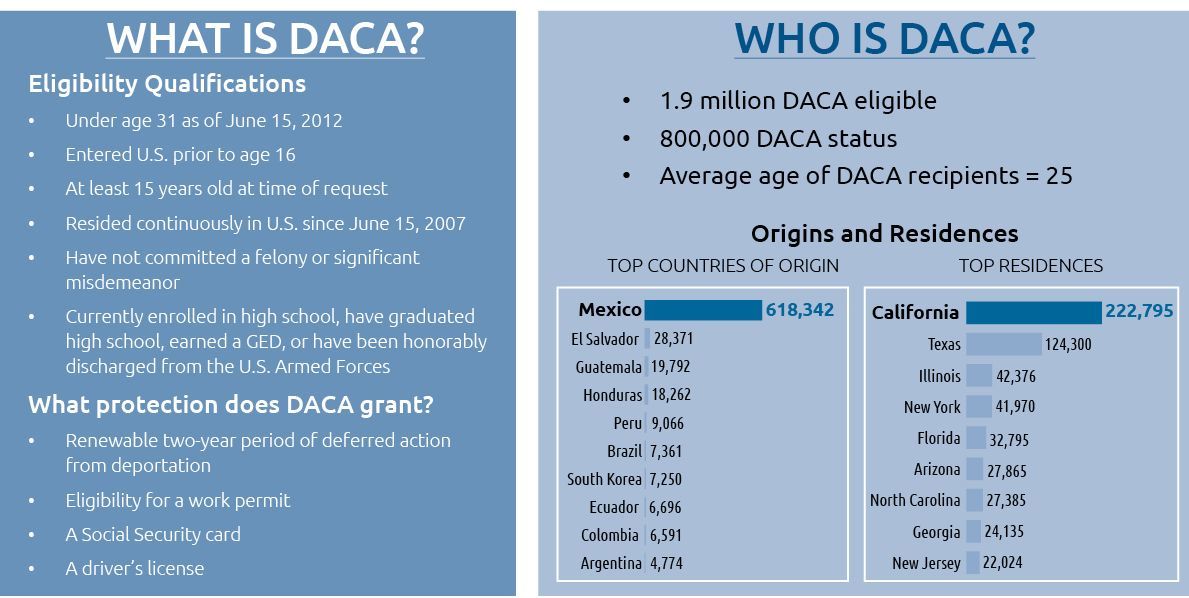 Courtesy of American Council on Education
---
Campus Resources for Students
If students are looking for a place to talk or process, they can stop by the Mosaic Cultural Center and connect with the Office of Student Enrichment and Intercultural Development (SEID).
Additionally, students may contact Spiritual Direction to participate in Pastoral Care, another option available for those who are processing the impact of the decision on DACA.
---
Frequent Asked Questions
What is DACA?

DACA stands for "Deferred Action for Childhood Arrivals." Deferred action means that those who are in violation of current federal immigration law, but entered the country as undocumented minors, can apply for a deferment of prosecutorial action from the Department of Homeland Security (DHS). Should they meet certain requirements, they can be considered for deferment or recognition as being "legally present" in the country, provided they continue in good standing. This legal presence does not confer "legal status" (under the law) however, and is still a temporary deferred designation at the prosecutorial discretion of the DHS.

What rights do undocumented immigrants have?

Undocumented immigrants are afforded certain legal rights including: emergency health care, emergency shelter, due process related to unlawful search and seizure, as well as protection from unfair employment and housing practices. In addition, federal legislation does not prohibit undocumented immigrants from opening bank accounts, taking out private loans, etc.

Do undocumented immigrants have legal access to education?

As it relates to education, undocumented students have legal access to public education as a result of the 1982 Supreme Court case of Plyer v. Doe. Citing the 14th Amendment to the U.S. Constitution, and its equal protection clause, the Court ruled, in part, that undocumented students (grades K-12) must be provided access to a free public education. The Court stated in their ruling that undocumented children should not forfeit their education because their parents' decision to immigrate illegally.

Does education also include post-high school study?

Presently, equal access to education is limited to graduation from high school. However, no federal law prevents undocumented students from attending a college or university. Undocumented students have the ability to attend public and private colleges and universities across the country. Although, certain states and individual institutions may have different adopted policies that restrict or deny the enrollment of undocumented students.

What is the state of California's policy towards undocumented students?


The federal government currently restricts undocumented students from receiving federal financial aid resources (this includes Pell Grants, SEOG grants, loans, etc.). However, California has allowed for undocumented students to enroll in its colleges and universities. The state of California passed AB 540 in 2001, which allowed undocumented students in-state tuition benefits as long as the student meets certain requirements (i.e. attended a CA high school for three or more years). The CA Dream Act (AB 130, AB 131) was signed into law on October 8, 2011. This act gave undocumented students access to scholarships funded by private donors and alumni at public colleges (AB 130) and eligibility for both the Cal Grant and the Chafee Foster Youth Grants (AB 131).

How is Biola responding to this issue?

As President Barry Corey shared in a letter with the community on September 6, 2017, we are committed to all students' education here at Biola. Our approach throughout the university, from the admissions and financial aid process to student development and academics, is to serve all our students equally, adhering to state and federal laws governing access and privacy. As it relates to DACA, Biola is taking steps to appeal to congressional leaders to provide permanent protections to DACA participants. Additionally, Biola is taking a stand with other organizations that are leading the charge such as the Council for Christian Colleges and Universities, the National Hispanic Christian Leadership Conference, the National Association of Evangelicals, the National Latino Evangelical Coalition, the US Catholic Bishops and the Association of Independent California Colleges and Universities.