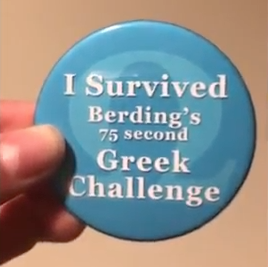 Can you chant by memory through all of beginning Greek grammar in 75 seconds?
[1]
Everyone in my Greek classes can do it in 90 seconds, but successfully chanting through Greek grammar in 75 seconds is difficult—even harrowing: alphabet, article, noun endings, indicative verb endings, general verb forms, participles, infinitives, imperatives, contract forms, and forms of
eimi
… all in 75 seconds or less! Anyone who survives this public ordeal receives a button displaying these words: I SURVIVED BERDING'S 75 SECOND GREEK CHALLENGE. This year seven students received the coveted buttons, and you can
watch a montage of the famous 75 second Greek challenge
to see it for yourself. Many thanks to Jorden Harber for the video. The successful students in order of appearance are: Jorden Harber, Jonathan Yu, Drew Botts, Masaki Ito, Josh Swigart, Alex Worthington, and Isaac Baumheckel.