I wrote a book titled When The Church Was A Family. Considering its rather narrow focus, it has sold pretty well. I am particularly delighted that the book has become required reading in one of our Talbot Spiritual Formation courses.
One person who has read When The Church Was A Family is Mark DeNeui. Mark is a New Testament scholar who has been training Christian leaders in Europe for over twenty years. He and his wife Lisa have been on furlough from the mission field and will shortly return to France. I was Mark's youth pastor back in the late 1970s, I officiated at their wedding a decade or so later, and my wife and I have remained close to the DeNeuis all these years.
While in the States, the DeNeuis needed to buy a used car for their daughter Alison, a Biola student. Mark recruited the help of a knowledgeable mechanic from a church that supports him. They followed up on a number of leads, finally answering an ad on Craigslist for a car that was priced a good bit above the DeNeui's budget.
They met the owner. There was no indication whatsoever that the man—a total stranger—was a Christian. Mark dropped a few of what he calls his "Christian hints" (about his faith and what he does for a living) without any noticeable response.
Mark and the seller went for a test-drive, and the car checked out just fine. When they returned, Mark mentioned that he could not meet the price and asked if, perhaps, there was room to negotiate.
The man's response caught Mark totally off-guard:
Have you ever heard of a book called When The Church Was A Family?
Mark managed to say something to the effect of:
Uh . . . yeah . . . I know the author.
To which the car owner replied:
I think he's connected with a church in El Segundo or somewhere in the area.
Then Mark exclaimed incredulously:
I'm preaching at that church tomorrow!
[The encounter with the seller just "happened" to occur on the Saturday before our Missions Sunday. Mark preaches at Oceanside Christian Fellowship maybe once every 3-4 years, when on furlough from the field.]
And then came the bombshell. The owner of the vehicle said (I paraphrase):
That book totally changed my life as a Christian. I checked you out online (sometime before Mark had arrived). As God's kids, we are family. So I want you to have this car. For free. Here. It's yours.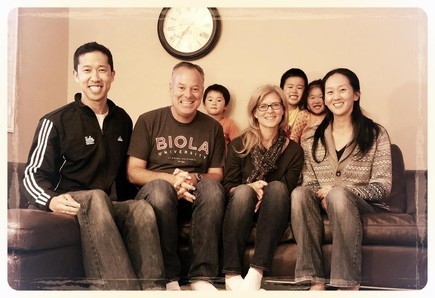 The total stranger turned out to be a brother in Christ named Brinton Kwok, who attends a church in Santa Monica. Several of his church leaders had stumbled across When The Church Was A Family at a conference and passed the book on to Brinton. Brinton read it and decided to live his life as if Christians really are family who share material resources with one another (a theme in the book).
There is a final backstory that has made the above encounter all the more timely and meaningful to me. The scholarly life can be a lonely pilgrimage (we don't write our books at a party), and many of us who work in the academy experience our share of ups-and-downs. After six books and a number of articles, I presently have next-to-no motivation to continue to research and write. And although I know better, I sometimes even wonder if all the hard work over the years has really mattered much in the grand scheme of things.
Christianity Today recently approached me to write an article based on When The Church Was A Family. I was just about to write back and tell them "No" — until God gave Alison DeNeui a car through the hands of a total stranger who read a book I wrote.
Is God sovereign? Does God care? Absolutely. Always. And once in a while, in his fatherly kindness and mercy, God lets us know so in a very specific, irrefutable way.
The joke now circulating around Oceanside Christian Fellowship is that Mark DeNeui has made more money off of Joe Hellerman's book than Joe has. Joe, of course, would not have it any other way!