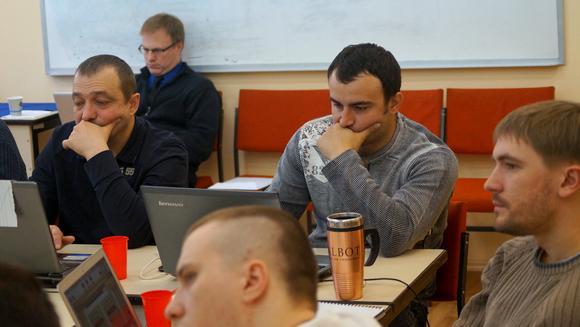 The following piece was submitted by Eric Oldenburg and his wife, Josie Oldenburg. Eric (a Talbot graduate) is one of the on-site leaders at Talbot's Kyiv extension, as well as the Area Director of SEND Ukraine.
Despite nearly five months of instability in Ukraine — which has included (in part) massive street protests, upsetting scenes of cruelty and torture, sniper shootings, the ouster of Ukraine's corrupt president, disturbing amounts of misinformation, the annexation of Crimea by Russia, a massive Russian troop buildup along Ukraine's border, and lots of diplomatic talk — students in the Talbot-Kyiv extension are pressing on with their ministries and with their studies.
Though the capital city (where the Talbot sessions are held) is now calm, violence has broken out in Eastern Ukraine, where several cities have been occupied by pro-Russia militias. Five Talbot students minister in that part of the country, and they report that the crisis has made people more open to the Gospel message. "People are listening more carefully," said Vladimir Yakim, on-site director of the extension program. "I see the same thing in my own ministry."
Talbot also has two students who actively minister in Crimea. One student skipped the most-recent session of classes because she didn't want to abandon the unreached people group with which she works during this season of great turmoil. The other student attended classes, despite not knowing whether he would be able to return home after the session ended. He is back on the peninsula, but is facing great difficulty as apartments, cars, and businesses now must be registered as Russian, and there is also pressure to accept a Russian passport.
Sadly, the "How We Got our Bible" conference that the Talbot extension planned to hold in March (which would have featured Talbot Dean Clint Arnold) had to be cancelled, but we would like to see it rescheduled for the fall, when Ukrainians hopefully will feel more comfortable leaving their families to attend such an event.
Despite Ukraine's uncertain future, Vladimir reports that many people are showing interest in studying with the extension starting in the fall. "There's anxiety, but no panic," he said. "People are living like they used to live, but hoping that there's no war."
As diplomacy continues and Ukraine prepares to elect a new president in late May, our Talbot extension students ask you to keep praying for peace, for protection from those who would provoke violence and instability, and for believers to continue to have opportunities to spread a message of true peace and freedom, found only in Jesus Christ.