Remember 7th grade, when your English teacher taught you how to diagram sentences? You know, "main clause," "subordinate clause," and all that other stuff you have likely forgotten long ago?
I still diagram sentences. And I teach my students how to diagram sentences, too—Greek sentences!
I value the discipline for several reasons. First of all, it holds our language students accountable "graphically" to demonstrate their understanding of Greek grammar. And for those who are visual learners, this is where all those crazy categories from intermediate grammar (i.e., Wallace's Greek Grammar Beyond the Basics) finally come together. Secondly, diagramming sometimes reveals the priorities of the biblical author in a way that is otherwise hard to see.
To appreciate the value of this—and the payoff of Greek diagramming for life together in the local church—here is a mock-up of a PPT slide of Ephesians 4:16 that I showed to my congregation during a recent sermon. (Yes, I diagrammed a sentence in a sermon. It's amazing what you can get away with in the pulpit when you sugar-coat it with a good bit of humor!) Check it out: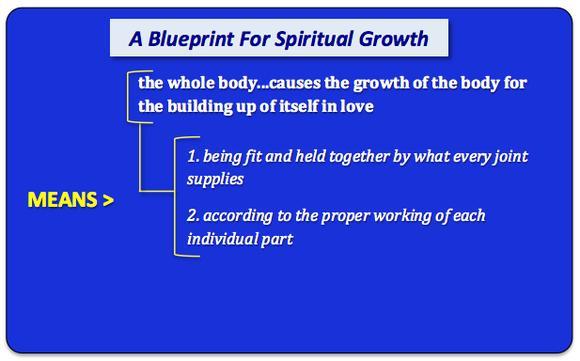 The above diagram essentially transfers into English a diagram of the Greek syntax of the verse. And it proves to be very revealing!
Apparently God's primary GOAL in this Christian adventure is not my spiritual growth as an individual. It's not about me, after all! It is about the growth of "the whole body" (qualitatively, not quantitatively, in this particular passage).
But then what about me?
Well, I told my congregation that Sunday, I don't want to ruin your day, but the grammar here in Ephesians 4:16 is as clear as a bell: you as an individual are merely the utilitarian MEANS to God's overarching GOAL of a healthy, mature local church body! I proceeded, of course, to qualify "utilitarian." God doesn't "use" people. But I think I got their attention. And I hope I've got yours, as well.
If that sentence from my sermon in the previous paragraph bothers you, it is probably because you and I are part of a Christian culture that almost invariably inverts God's priorities, by viewing the body of Christ as the utilitarian MEANS to our GOAL of personal spiritual growth. How could we think otherwise? Most of us have been socialized from birth to view ourselves as consumers who attend church, first and foremost, "to get something out of it."
God's priorities are quite the opposite. As we become relationally connected with others in the community (MEANS #1, above) and begin serving with our gifts (MEANS #2), God's GOAL—a relationally healthy, theological robust body of Christ—begins to become a reality in the local church.
To drive the point home, I added a final piece to my visual aid that Sunday, at the bottom of the slide: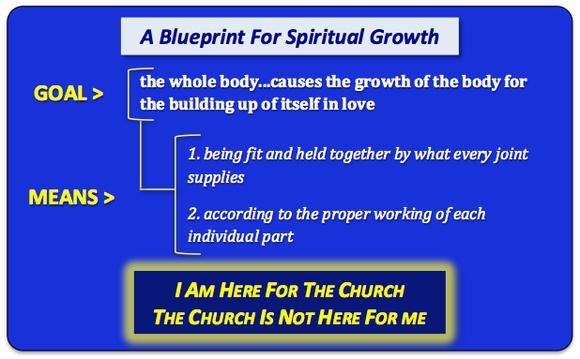 For you Greek students who are tunneling through the dark reaches of epexegetical infinitives and attributive genitives in TTNT 503, be encouraged! It is all worthwhile. Hang in there and you will be better equipped to give your life away as one of the blessed MEANS to God's great GOAL: "the growth of the body for the building up of itself in love" (Ephesians 4:16)!