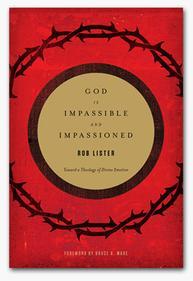 Crossway has just released a book I wrote on the doctrine of divine impassibility. The title is God is Impassible and Impassioned: Toward a Theology of Divine Emotion.
In it, I explore the nature of God's affective engagement with his creatures as revealed in Scripture, and attempt to advance the balanced thesis that is reflected in the book's title. My hope, for those who read it, is that it will provide substantive encouragement to their walk with God as they ponder again the profound blessing of enjoying a relationship with the Triune God.
For those interested, click here for more information, including the table of contents.