Hey, if you can summarize Luther in 1,000 words, Calvin should be no problem. Not that Calvin's any less interesting than Luther, just less open. In tens of thousands of pages of his surviving writings, including several thousand personal letters, Calvin gives only the rarest hints of what's going on inside. It's pretty obvious, though, that so profound an exegetical and theological legacy could only have come from a heart aflame for God.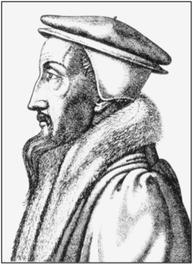 Calvin was born July 10, 1509 in Noyon (60 miles northeast of Paris). He died an exile in Geneva on May 27, 1564. Though he could not have known its outcome, Calvin lived to see the outbreak of the French Wars of Religion (1562-98), a conflict that revolved around the gospel Calvin had worked so hard to spread in his native country.
Like Luther, Calvin, too, started out on what might have been a typical, late-medieval career, studying in Paris (1523-28) and in Orléans and Bourges (1528-31), before completing his law degree in 1531. (So Calvin hadn't even finished school, much less converted to Protestantism, by the time the Lutheran Reformation had advanced to the stage of confessional consolidation—the Augsburg Confession of 1530.)
We know little about Calvin's conversion, but it had certainly occurred by November 1, 1533. On that day the rector of the University of Paris gave a very mildly reformist sermon ghost-written by Calvin ("Calvin's ninety-five theses"). The heresy hunters at the Sorbonne (the theology faculty at the University of Paris) were nevertheless infuriated and both rector and Calvin had to flee Paris. Calvin took shelter in the southwest of France, in Angoulême ("Calvin's Wartburg"). There, in 1534, Calvin began drafting a small handbook of theology, published in 1536 to immediate and widespread acclaim as The Institutes of the Christian Religion.
King Francis I launched a more general crackdown on Protestants late in 1534. This time Calvin fled France altogether, arriving in the Swiss city of Basel in January 1535. The Swiss Reformation had begun in Zurich in 1519 under the preaching and leadership of Huldrych Zwingli (1484-1531) and continued under Heinrich Bullinger (1504-75). Zurich had been officially Protestant since 1525; Basel since 1529. Calvin's year and a half in Basel introduced him to many of the Protestant leaders whose ranks he would soon join.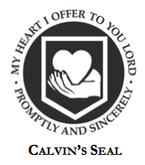 Unlike Luther, Calvin was never ordained and never received any formal theological training. Calvin was nevertheless conscripted for church work in the newly Protestant city of Geneva (July 1536). His duties included lecturing on the Bible, writing a catechism and a confession of faith for the erstwhile Catholic Genevans, and constructing a recognizably Protestant form of Sunday worship. Though Calvin had no aspirations to the pastorate, he did eventually begin preaching as well. When in 1538 the powerful neighboring city of Bern attempted to impose its form of Sunday worship on Geneva, Calvin refused to comply and was expelled from the city.
Informal training, however, Calvin did receive. This came in the strategic, fatherly guidance of the great Strasbourg reformer Martin Bucer (1491-1551). Bucer invited the disgraced Calvin to live next door to him in Strasbourg and to pastor the local French-speaking congregation. Calvin's years in Strasbourg (1538-41) were probably the happiest, and among the most productive, in his entire life—the calm before the storm. As for happiness, it was in Strasbourg that Calvin met and married Idelette de Bure (1540). As for productivity, Calvin participated in a series of international religious conferences. He also completed a major revision of his Institutes (1539); the Reply to Sadoleto (1539), a rhetorical masterpiece in defense of Geneva's conversion to Protestantism; a magnificent Commentary on Romans (1540); and a first French translation of the Institutes (1541), to this day widely hailed as a landmark in the development of the French language.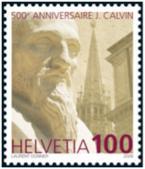 September 1541 brought a pastorally seasoned and internationally esteemed Calvin back to Geneva in triumph, followed by five years of relative peace. These years did not, however, produce any breakthrough in negotiations with the Lutherans over the Lord's Supper. As a result, Protestants remained theologically divided as military confrontation with the emperor drew near. Following the dark events of 1546 (Luther's death, the opening of the Council of Trent, the outbreak of the disastrous Schmalkaldic War), Calvin faced increasing opposition from the leadership of Geneva (he never "ruled" the city); the death of Idelette (1549); the death of Bucer (1551); bitter controversy with Bolsec (1551); England's return to Catholicism under "Bloody" Mary Tudor (1553-58), flooding Geneva with yet another wave of religious exiles (whence the "Geneva" Bible of 1560); and the infamous Servetus affair (1553).
Through all of this, Calvin worked with a sustained intensity that defies imagination. He preached over one hundred fifty sermons per year and published commentaries on 1 & 2 Corinthians (1546); Galatians, Ephesians, Philippians, and Colossians (1548); 1 & 2 Timothy (1548); Hebrews (1549); Titus (1550); 1 & 2 Thessalonians and Philemon (1550); James (1550); 1 & 2 Peter, 1 John, and Jude (1551); Isaiah (1551); Acts (1552-54); John (1553); Genesis (1554); Matthew, Mark, and Luke (1555); Psalms (1557); Exodus, Leviticus, Numbers, and Deuteronomy (1563); and Joshua (1564)—demonstrating, if possible, a more urgent concern for teaching the Word of God than even Luther had shown, and bequeathing this concern to his Protestant posterity. Calvin also continued a full lecturing schedule, produced new editions of his Institutes (1543, 1550), and carried on a vast international correspondence.
Despite his efforts, ministry in Geneva hit rock bottom by 1554. But just as Calvin was ready to call it quits (he offered to resign), local politics swung decisively in Calvin's favor. From 1555 to his death Calvin enjoyed the general support of the city council. This enabled the founding of the Geneva Academy (now the University of Geneva) in 1559 for the training of Protestant ministers. These were desperately needed in many of the roughly 2,000 Protestant congregations that had sprouted up in France by Calvin's death in 1564. Calvin also labored intensely through a nearly fatal illness in 1558 in order to complete the final, definitive edition of his Institutes (1559; French translation 1560)—what had matured over the decades into what has been called "the classical statement of the Protestant Christian faith."