A primary distinction between creativity and entrepreneurship is the crucial response to the question, "Is this a business opportunity?" If a creative idea solves a customer pain point, fulfills a market need, or improves an existing product, the answer is yes.
Sometimes an entrepreneur goes beyond this and meets a need in their own heart and in their own community.
This was the impetus for CityVend, the first-place winner of the 2023 Biola Startup Competition. Developed by Biola alumnus Carlos Ventura ('22) — a first generation student dedicated to helping his Los Angeles community of Hispanic families — CityVend aims to connect street vendors with customers who want to shop small and build thriving local economies. Here, Ventura shares about the "why" behind his business.
Where did my project come from?
My project began with Maria, a single mom. To make ends meet, Maria had two minimum wage jobs, but even two jobs was just not enough to support her family in Southern California. So she decided to become a street vendor, but this has its own challenges. She has to wake up at three in the morning and do all her preparation, make sure she has enough food to sell, make sure that her little car has enough gas to get there.
This woman's story, along with hundreds just like it, is why I created CityVend. CityVend is an AI app that will connect street vendors to their customers in a more efficient way.
How big is the problem?
In Los Angeles there are more than 12,000 street vendors. But turnover is high — 42% stay in business less than one year. Like most vendors, Maria's biggest challenge is a lack of stable income; one day is good, the next day is great, but the third and fourth days could be terrible. This happens for several reasons that have nothing to do with the quality of Maria's food.
First, she has no consistent location. These types of vendors usually have to move around constantly, which means they have few returning customers. Second, she has no online presence. Many of these vendors are older or have less education, so they are not digitally savvy and do no online marketing. Third, since they are street vendors, they tend to be cash-only operations. This makes them vulnerable to robbery and limits their ability to track revenue — 36% of vendors have no bank accounts at all. This is also a problem for customers, since many of us no longer carry cash. Fourth, the vendors may understand their product but often know little about business — for example, Maria is gifted at cooking but untrained about key aspects of running a small business.
These four factors — unstable location, no marketing, cash-only operation, lack of business skills — often cause vendors to miss out on successfully sharing their uniqueness with the world.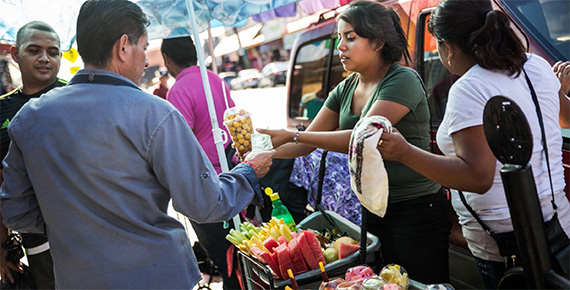 How does this project help?
Our solution to these four problems is the CityVend app. CityVend will have an interactive map to provide a dynamic, up-to-date location for each subscribing vendor, whether it's a cart, truck or stand. Also, CityVend will provide online purchasing connected to a vendor's bank account, so cash will not be necessary. We also want to be able to give our vendors a cost-effective marketing platform and review system. Finally, we want to include an educational aspect, such as business tips and best practices on how to keep their small business legal, safe and profitable.
Our goal is to create an all-in-one solution, because these folks could be much more successful with just a little help. Maria is based on a real person — a young woman who is very close to my family. When she told me that they weren't making it financially, I wanted to step up, but since we both came from a low-income area, I couldn't really offer her financial support. But I was driven to do something, and out of that came CityVend. I didn't want to create just another app. I want to give our vendors and our community financial freedom.
Learn more about the entrepreneurship emphasis within Crowell's bachelor's degree in business administration or a minor in entrepreneurship.