Christian singer and songwriter, Matt Redman, will serve as Songwriter in Residence at Biola University commencing the 2022-2023 academic year. The brand new role, customized for Redman in Biola's School of Fine Arts and Communication, will allow students to learn directly from the legendary, double-Grammy winning worship leader throughout the year.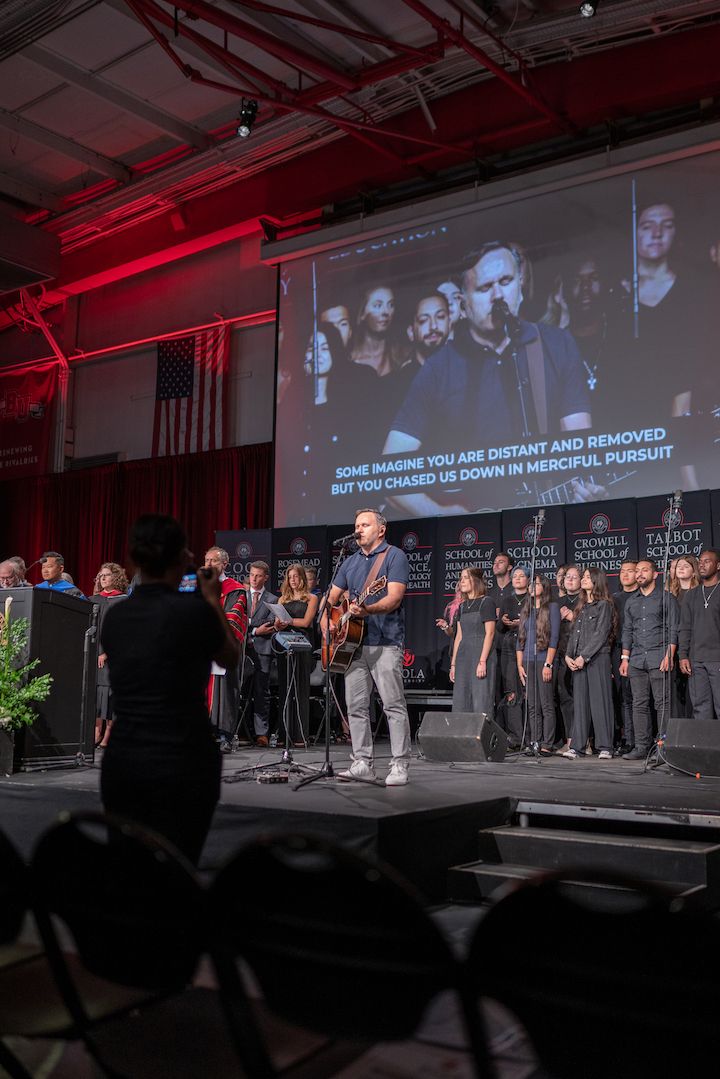 "Over the last few years I've had the privilege of being at Biola University several times — as well as inviting some of the Worship Arts students to be part of my live recordings," said Redman. "I've loved each and every one of these interactions, so I am excited to be taking on this new role and making the relationship more official."
Biola President Barry H. Corey announced Redman's appointment at Biola's Fall Convocation ceremony, followed by Redman leading worship alongside a choir of 20 current music students.
In Redman's role, he will guest lecture during the Fall semester in a Worship Arts major course among other education and music arts opportunities.
"I'm really looking forward to helping sharpen this great group of students in their sacred pursuit of songwriting and worship leading," said Redman.
The School of Fine Arts and Communication is excited to welcome Redman aboard.
"It is such an honor and privilege to welcome Matt to the School of Fine Arts and Communication and specifically the Conservatory of Music," said Dr. Todd Guy, Dean of the School of Fine Arts and Communication. "We are so excited that Matt is willing to share his gifts as a songwriter and worship leader with our students. We are praying for continued favor upon Matt as he helps shape and mold the hearts and minds of the next generation of songwriters and worship leaders here at Biola."
Redman's journey as a worship leader and songwriter has taken him to countries such as South Africa, Japan, India, Australia and the Czech Republic. Along the way he has sung in venues such as Madison Square Garden, Wembley stadium, and the Royal Albert Hall — as well as recording in iconic studios such as Abbey Road in London and Capitol Records in Los Angeles. His best known songs include "The Heart of Worship," "Blessed Be Your Name," "Our God" — and the double-Grammy winning "10,000 Reasons." More recent co-writes include "Do It Again" and "Build my Life."
Redman is passionate about the upcoming generation of worship leaders and hopes to instill a desire not only to lead and write worship songs well, but with a biblical foundation.
Biola's degree in Worship Arts emphasizes musicianship, spiritual formation and biblical training with special courses in songwriting, technology in worship, and other areas. The Worship Arts program is part of Biola's School of Fine Arts and Communication Conservatory of Music.
The School of Fine Arts and Communication at Biola University encompasses the nationally-ranked programs offered through the Department of Art,Department of Communication Studies, the Department of Public Relations and Strategic Communication, Department of Digital Journalism and Media and the Conservatory of Music. Each discipline represents a channel through which students can impact the world and express their faith — with words, visuals and sound. Through these programs, students are given every opportunity to become proficient and powerful storytellers.